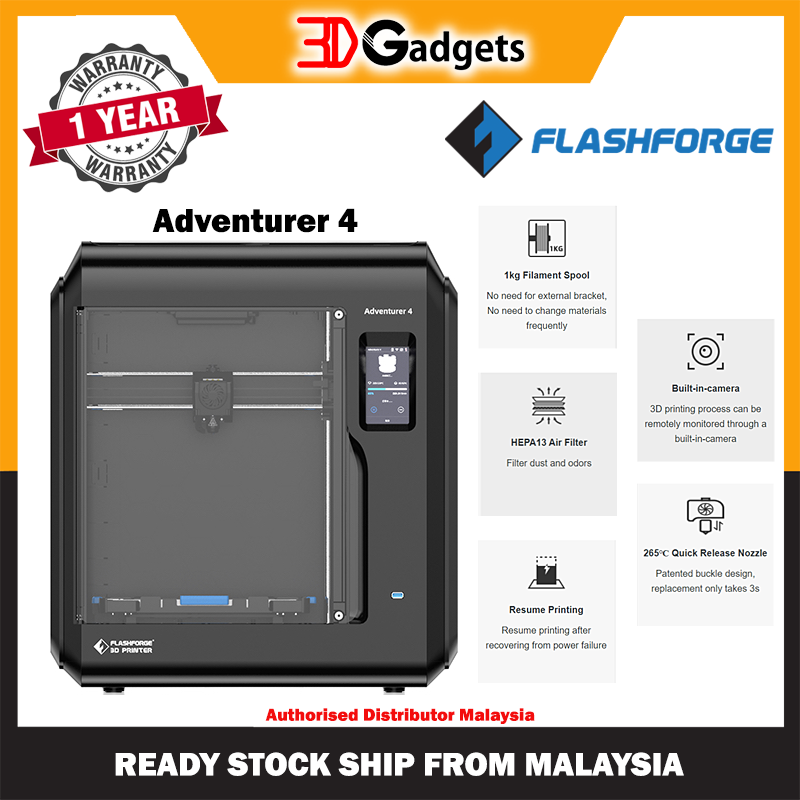  
Flashforge Adventurer 4 | 3D Printer | 265℃
Ship On Next Business Day
Print Volume: 220*200*250mm
Extruder Temp: Max 265℃* (optional with different nozzle)
Bed Temp: Max 110℃
Filament support: PLA/PETG/ABS/PC/PLA-CF/PETG-CF.
Camera: Yes with time-lapse video
Resume Print: Yes
Filament runout sensor: Yes
We Accept:

Flashforge 3d printer is the best 3d printer in the market for reliability, durability, stability and after-sales support. Flashforge Adventurer 4 is a ready to print 3d printer with a high extruder temperature of 265C and a build plate temperature of 110C, some industries recognised this 3d printer as the best entry level 3d printer. Flashforge 3d printers are recognised all over the world and they have a greater market demand in the US and Europe markets. 
Flashforge Adventurer 4, supports large volume printing, auto leveling, and supporting multiple machines controlled in one computer, better catering to printing needs from personal individuals, school education, and office users. Check out the best Adventurer 4 prints submitted for "You Are A Great Adventurer" challenge in Flashforge user group, and see what you can expect with this workhorse!
Removable nozzle 
With the patented buckle design, the nozzle of Adventurer 4 3D printer can be quickly detached from the extruder. Just press the buckle to swap the nozzle, finishing in only 3 seconds.
60 seconds heating up to 200℃
Multiple nozzle options
Different nozzle choice: 0.3/0.4/0.6mm.
Accuracy and efficiency as you wish!
240/265℃ nozzle options for various filaments:
ABS / PLA / PC / PETG / PLA-CF / PETG-CF
Build platform can heat up to 110℃ in Max.
Flexible upper plate, bend it to easily take off the printouts. Internal magnetic ensures the upper plate is well fastened on the bottom board when printing. A heat build bed reduces print problems of warping, shrinkage, and bottom raft non-sticky.
Nine-point auto-calibration
Adventurer 4 uses a CNC-made bottom frame as the base;
8 mm aluminium upper plate ensures flatness;
Planeness error of the base platform is less than 0.15 mm;
Easy to make platform leveling;
Excellent first-layer printing quality.
Multi-function escort
Continuing print from the point it stopped last time when electricity is on;
When filament runs out, the filament sensor can detect it and show an alert;
HD camera built-in Flashforge adventurer 4 3D printer for remote monitoring;
Adventurer 4 can be connected with Wi-Fi or Ethernet for remote control;
Newly iterated FlashPrint supports multiple Adventurer 4 3D printers controlled in one go!
Remote-control function handles exceptions while printing.
Energy-saving mode: only 1KWH power consumption when standby overnight.
Safe and easy to use
Flashforge Adventurer 4 ensures stable and good print effects making it low cost on machine maintenance.
Flashforge Adventurer 4 supports various materials
The high-temperature 265℃nozzle of Flashforge 3D printer adventurer 4 can well print many filaments made by leading filament manufacturers.
Filaments including ABS / PLA / PC / PETG / PLA-CF / PETG-CF.
Best Suitable for
Education - Applicable to K-12 education, 3D design and 3D printing teaching and training
Home users - For hobbyist to print parts at home
Office - Designers, engineers could print parts to test the designed models
Small Business - Produce samples in small scale production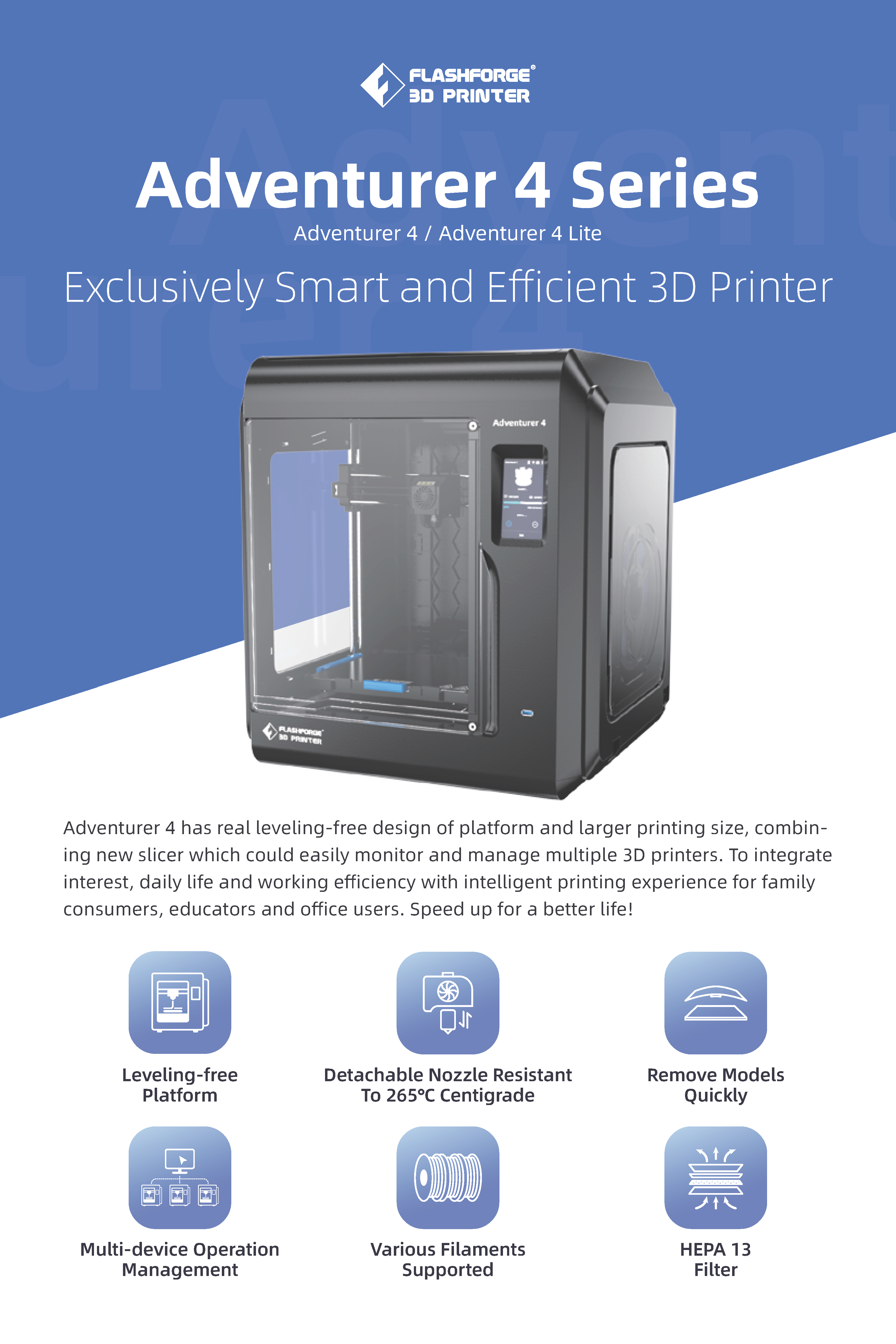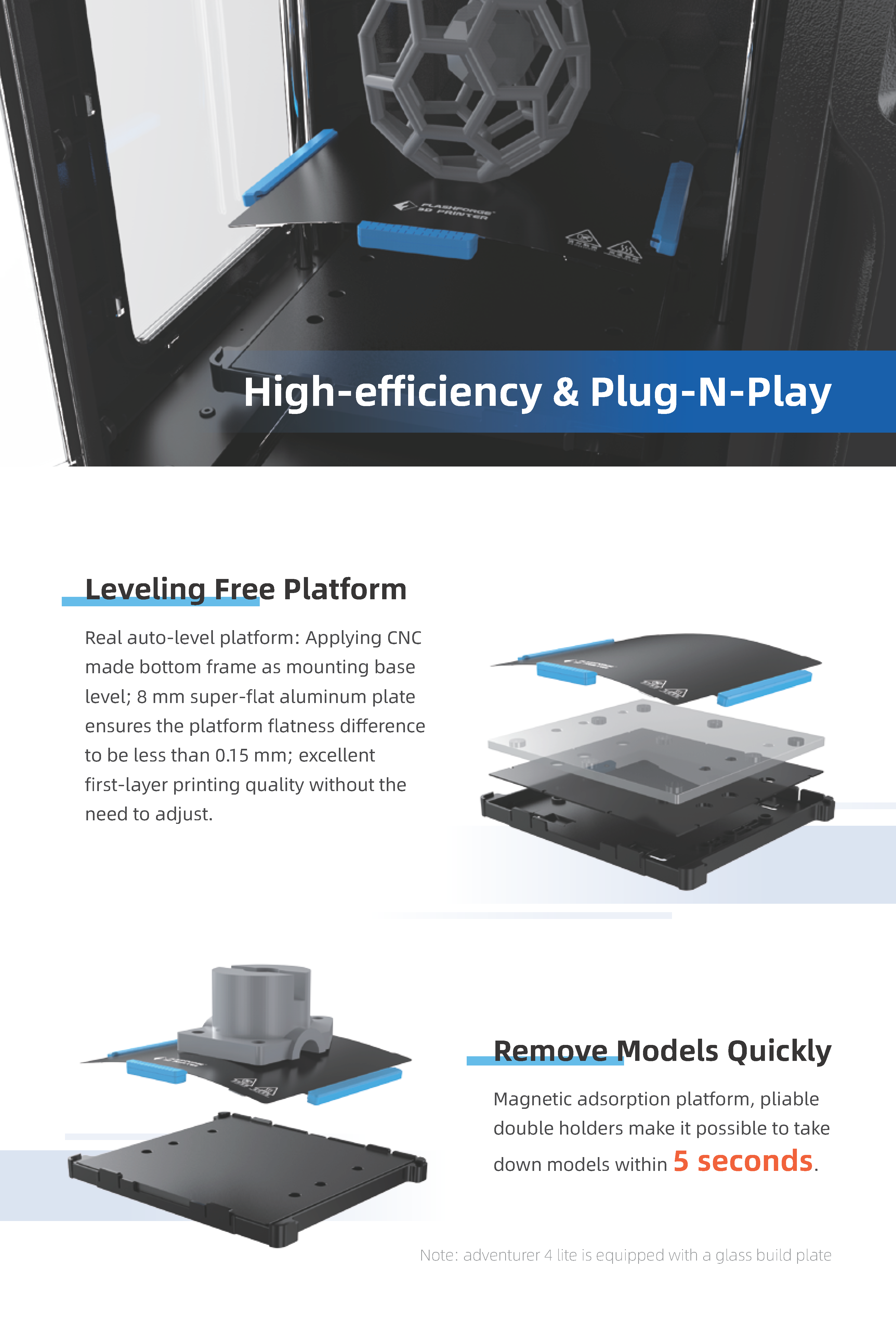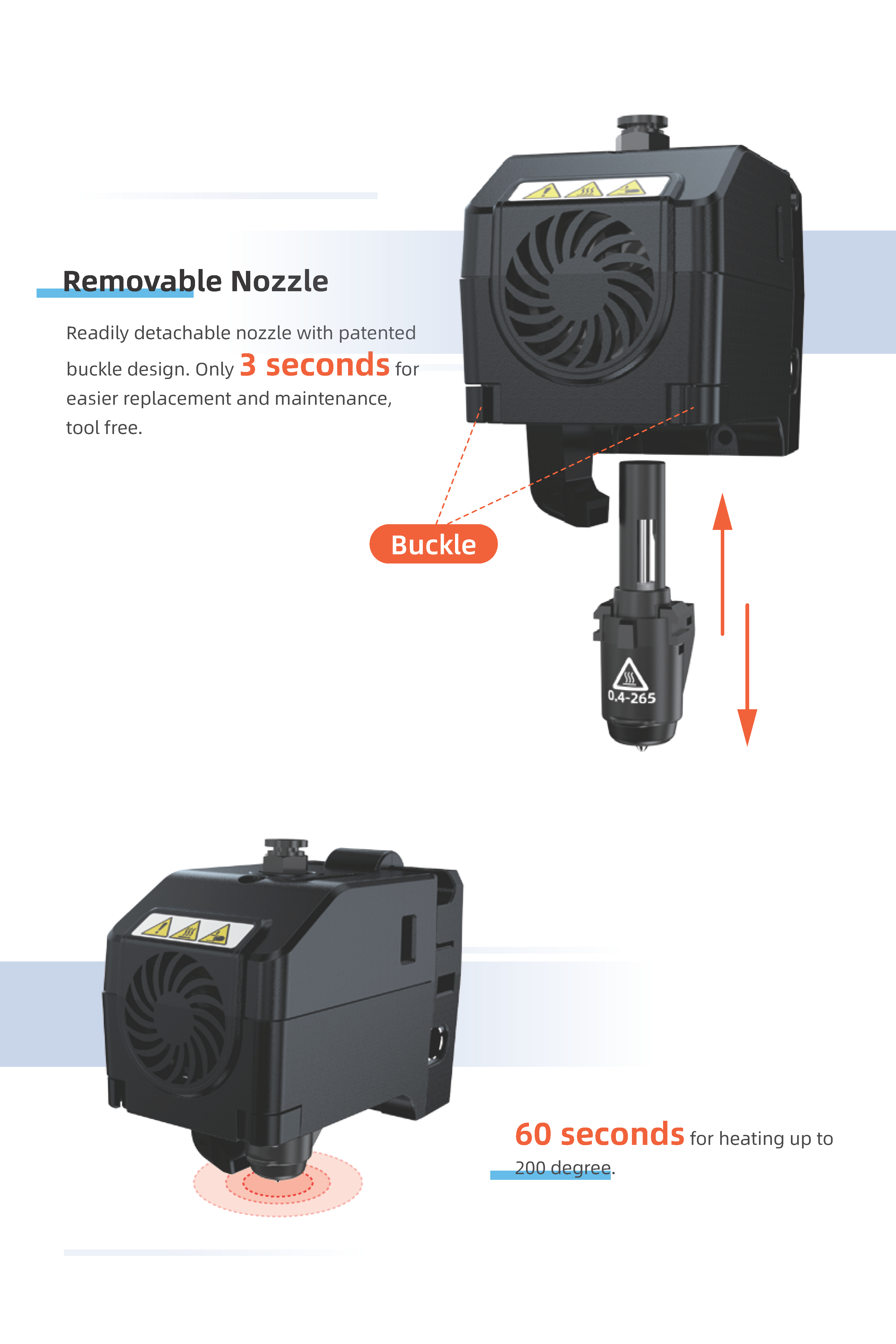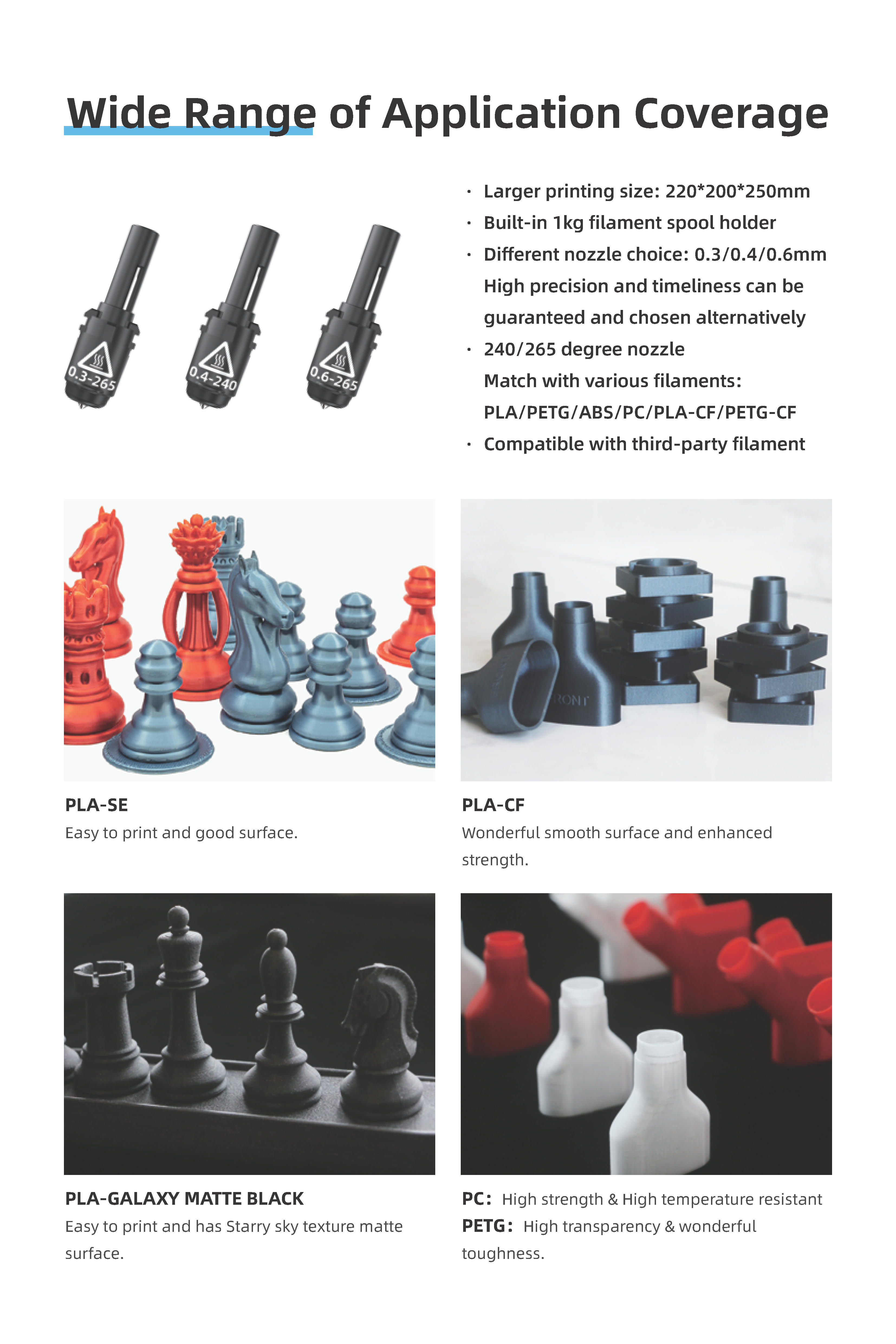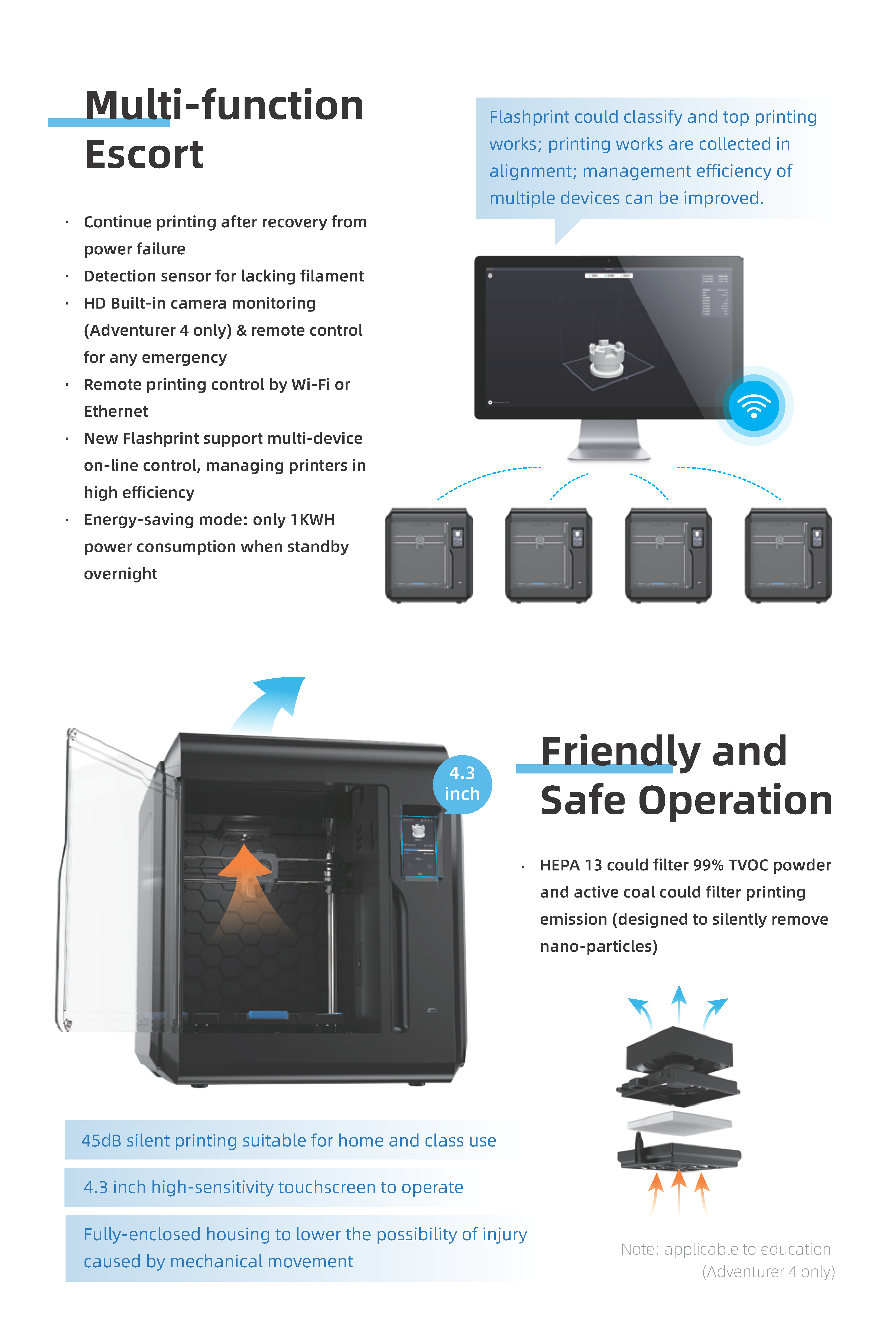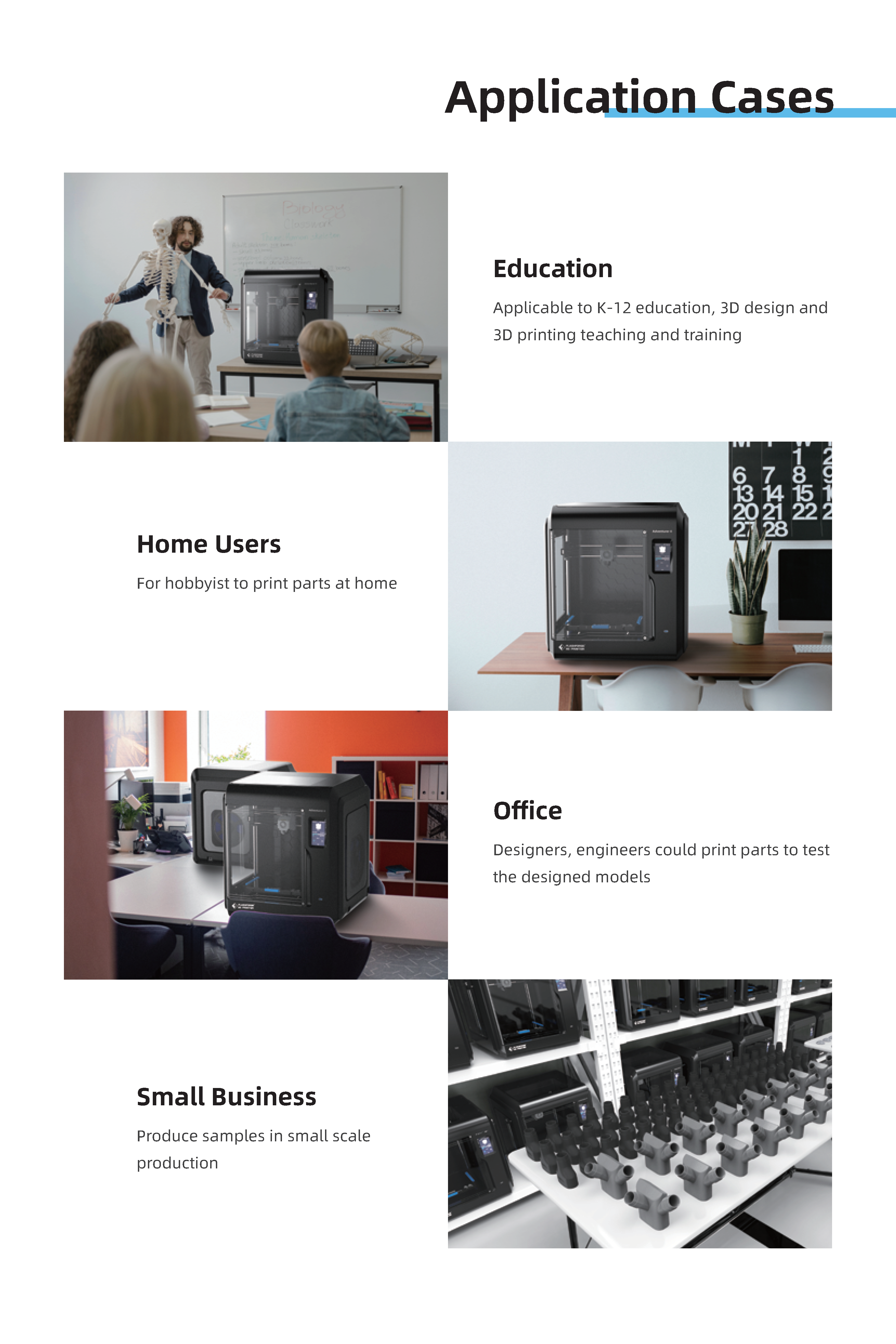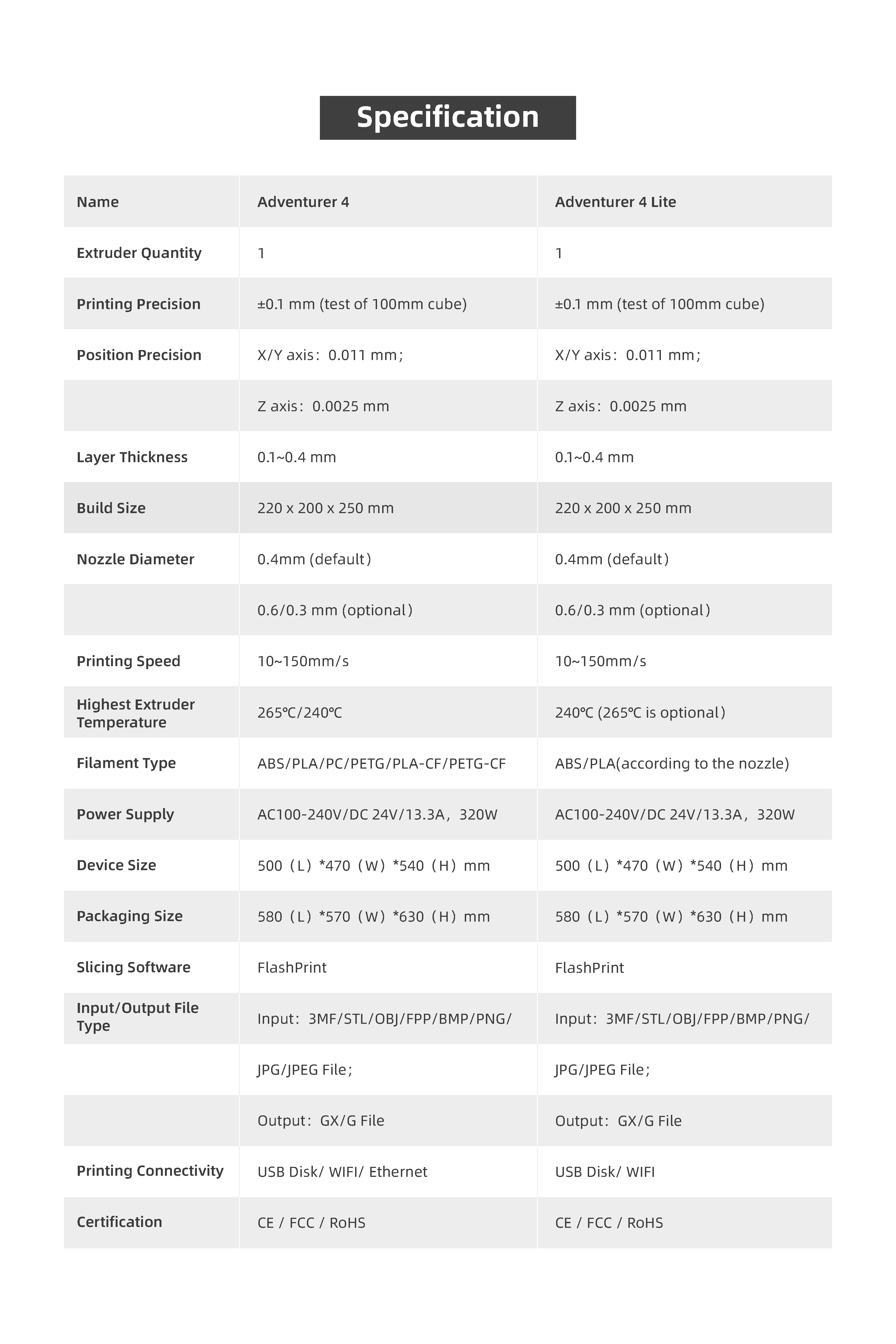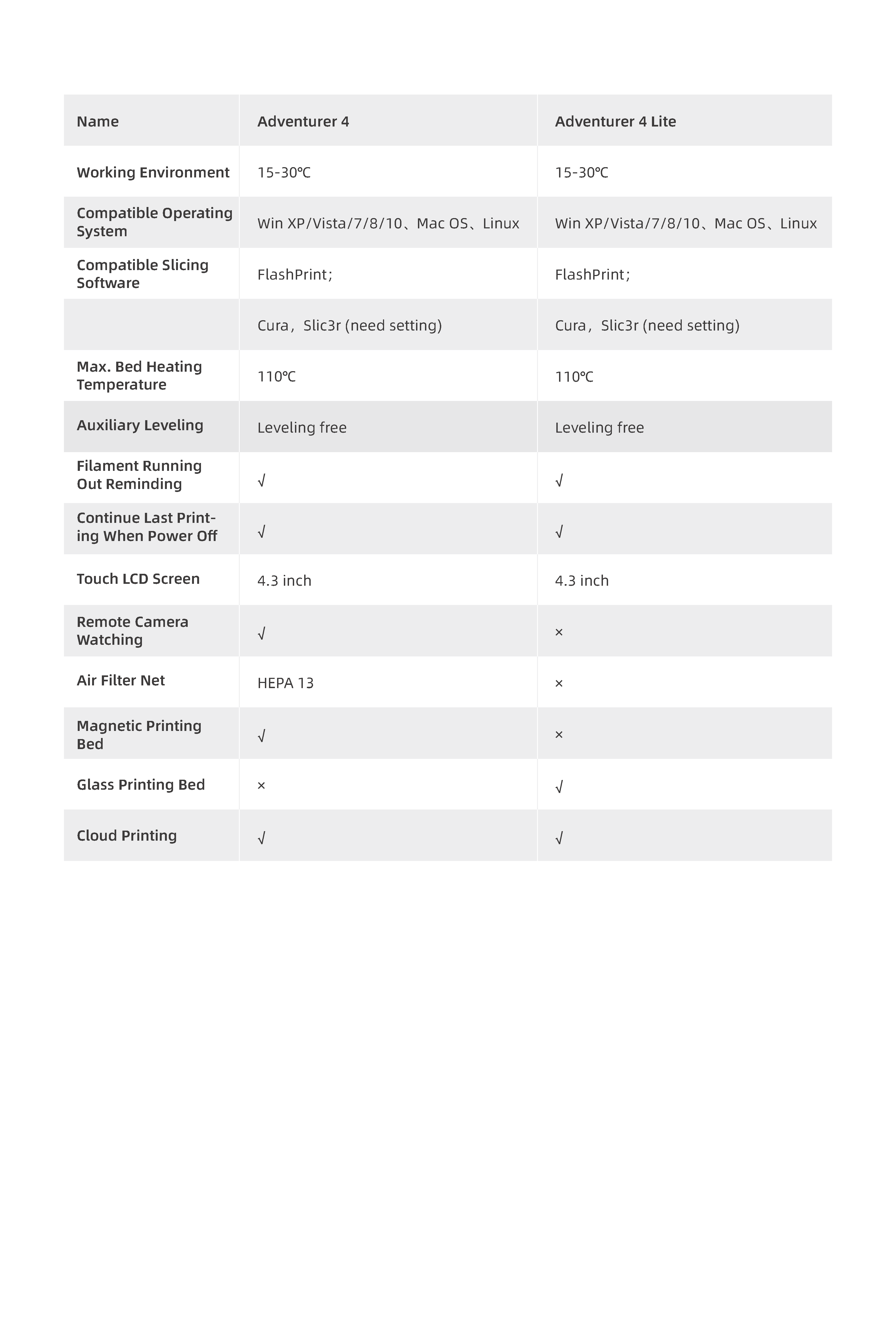 Sold by 3D Gadgets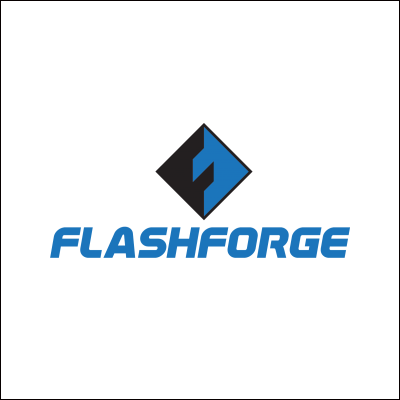 Data sheet
Warranty

1 Year carry in warranty against manufacturer defects (excluding wear & tear parts and user mishandling) Outstation customer need to bear the shipping cost (to and fro)"

Printer Type

FDM, FFF

Heated Bed Temperature

110C

Printing Temperature

240-265C*

Material

PLA/PETG/ABS/PC/PLA-CF/PETG-CF.
No customer reviews for the moment.
Customers who bought this product also bought: