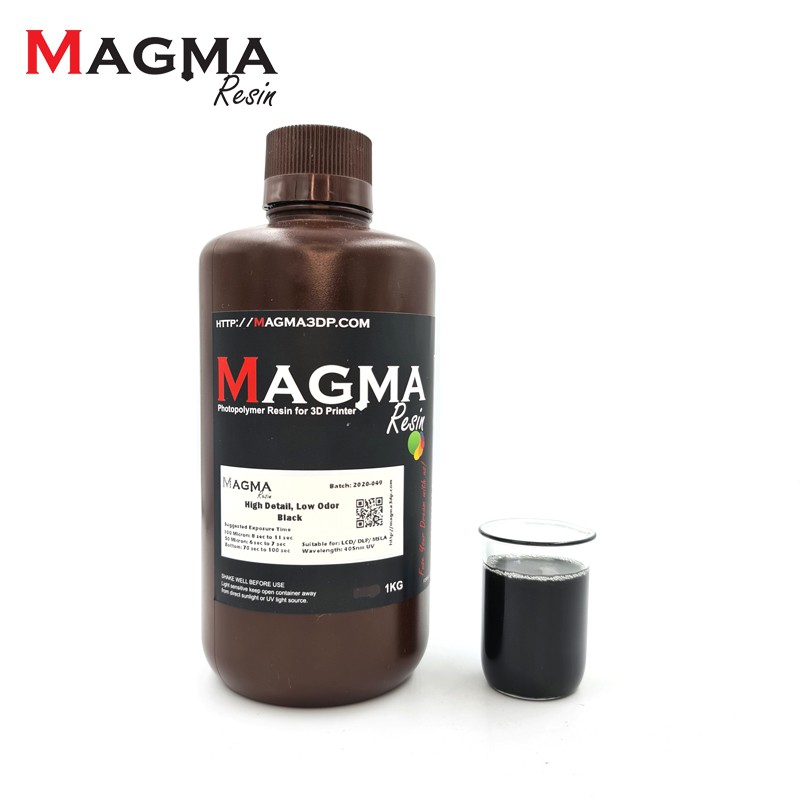  
Magma 12K High-Detail Model Resin with Low Odor Formulation Series - 1kg
We Accept:

Magma 12K Low Odor Model Photopolymer Resin Series
Magma Low Odor Model Photopolymer Resin Series is the latest formulation of resin with super low odor, produces high detail prints and high hardness. Suitable for most LCD/ DLP/ MSLA 3D Printer with 405nm wavelength. 
Suggested Exposure Time (Based on 405nm UV)
LCD/ MSLA
100 Micron: 8 sec to 10 sec
50 Micron: 6 sec to 7 sec
Bottom: 70 sec to 100 sec

DLP/ MSLA
100 Micron: 5 sec to 7 sec
50 Micron: 2 sec to 4 sec
Bottom: 10 sec to 15 sec
NOTE: The exposure time should be adjusted according to printer light energy, layer height and model structure.
Benefits
Low Odor Formulation

High detail prints

High hardness

Non VOC

RoHS certificated

Compatible with most LCD/DLP/ MSLA printer with 405nm like FlashForge, Wanhao, Anycubic, Creality, Phrozen, Elegoo etc. 
Technical Data Specifications
Density (g/cm3):  1.05- 1.25
Viscosity (MPa·s): 100-450 
Hardness(Shore D): 85-88 D
Tensile strength (MPa)
:
36- 5
2
Elongation at break (%):
4
-10
Flexural strength (MPa):
59
- 70
Flexural modulus (MPa):
1882- 2385
 IZOD Impact Strength (j/m): 44- 49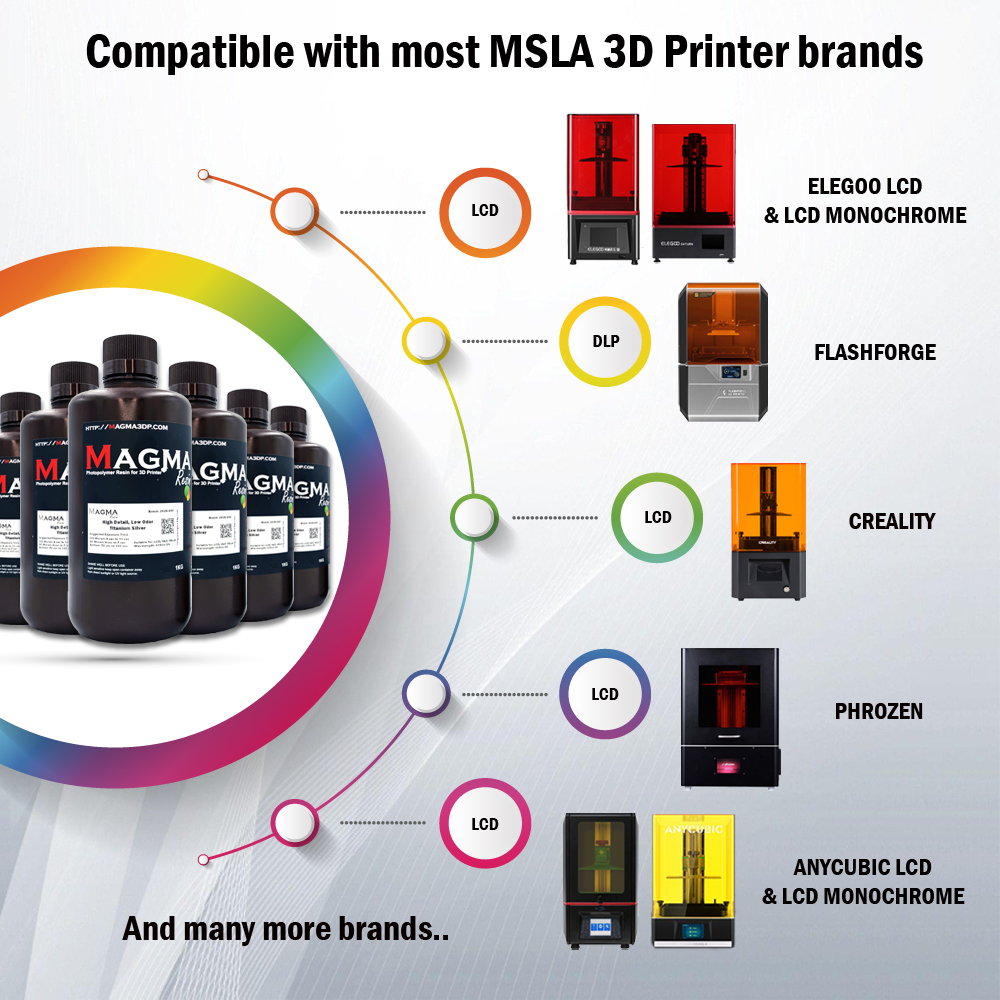 Cleaning & Post Curing
Step 1 - Prepare two containers with IPA (> 95%), and place the object into the first container and gently shake it or gently brush it with a soft brush. After that soak it in the second container for about 1 minute
Step 2 -  Dry the object with cold air. Ensure it is fully dry.
Step 3-  Place the object in the UV Curing Chamber to cure. The curing time is proportional to the volume of the work piece and inversely proportional to the optical power of the curing chamber.
Storage 
Shake well before use, and leave it for 30 minutes to eliminate air bubbles generated from the shaking process.
Magma Resin is packed in opague UV safe bottle for ease of handling and safe storing.
Recommended storage temperature at 2-27°C (59-80°F) 

After use, it should be filtered and keep back in the opague UV bottle on time and placed in a dry and well ventilated place.

Store in cool and dry place, and avoid sunlight, recommended temperature at 25-30 degrees Celsius.
Important Safety Notices
Please wear mask and non-powdered nitrile gloves while handling with resin as t

he product is in a liquid state with slight odor

.
Do not heat this product as photopolymer resins may produce vapours that may cause discomfort when exposed to high temperatures.
Keep the product out of children's reach.
Avoid skin or eye contact with the uncured resin. If accidental contact occurs, please immediately rinse the affected area thoroughly using clean water.
Uncured resin in the tank may be harden if exposed to sunlight before disposal. Be aware when discarding uncured resin and do not dispose the uncured resin directly into the sink. 
After printing, please clean the uncured resin on the surface of the printed object using isoprophyl alcohol.
Dispose of waste in accordance with local environmental regulations.
Sold By 3D Gadgets Malaysia
No customer reviews for the moment.
Customers who bought this product also bought: