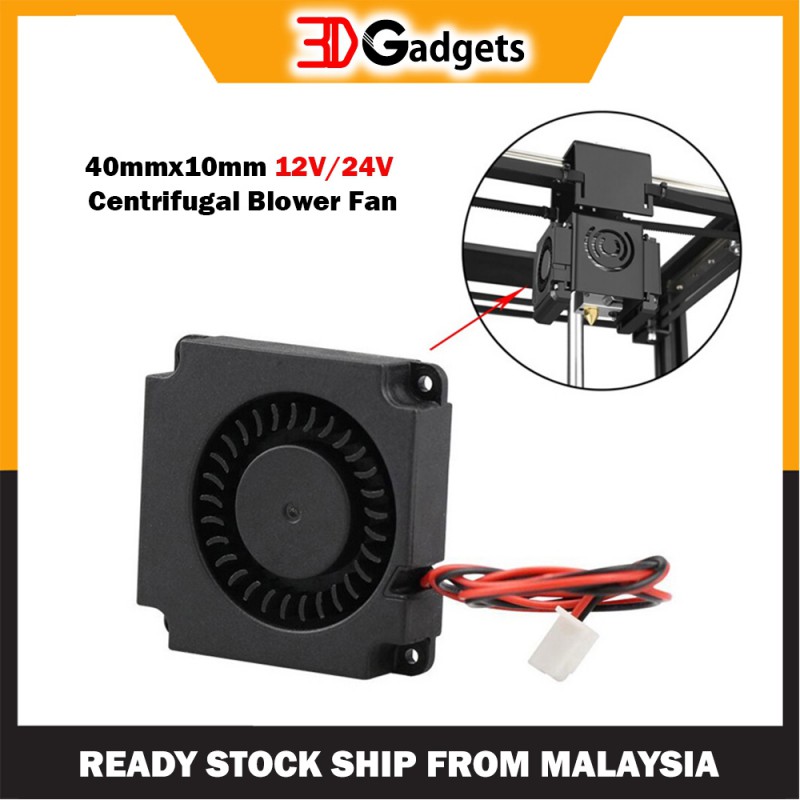  
40mmx10mm 12V/24V Centrifugal Blower Fan
Ship On Next Business Day
We Accept:

Hydraulic Bearing 40mmx10mm 24V Centrifugal Blower Fan
Specifications for 24V
Voltage: DC 24V
Rated current: 0. 06A
Size: 40*40*10MM
Consumption Power: 0. 72W
Rotating Speed: 7298 ± 5%RPM
Noise: 26DBA
Weight: 11. 6g 
Life: 50000 Hour 40°C 
Bearing structure: Hydraulic bearing
Wiring: Red line positive, black line negative
Temperature range -10 +80°C
Storage humidity: 5 TO 95% RH
Hydraulic Bearing 40mmx10mm 12V Centrifugal Blower Fan
Specifications for 12V
Voltage: DC 12V
Rated Current: 0.06A
Consumption Power: 0.72W
Rotating Speed: 6792+ 5%RPM
Noise Level: 26dB(A)
Life Expectancy: 50000hrs at 40°C
Bearing Structure: Hydraulic Bearing
Wiring: red positive, black negative
Interface. XH2.54 interface
Compatible with Ender 3, Ender 3 Pro, Ender 5, Ender 5 Plus
Package Includes:
1 x 40mmx10mm Centrifugal Blower Fan
Sold By 3D Gadgets Malaysia
Data sheet
Warranty

1 week against manufacturer defects
No customer reviews for the moment.
Customers who bought this product also bought: