 
nFEP Premium Film with Protective Films for LCD DLP MSLA 3D
Ship On Next Business Day
Performance significantly better than an FEP film
Suction force is incredibly low, Higher success rate
Last longer than nFEP
We Accept:

NFEP is a better alternative to a normal FEP film with enhanced technology. Thus, it helps to reduce the suction force that happens during the print bed gets into contact with the resin VAT/ Tank while printing. nFEP last longer than a normal FEP film it is best suitable for all kind of MSLA, DLP and any other 3d printer that uses FEP film for the VAT/ Tank. 
nFEP films are resistant to high temperatures (up to 220° C), chemical resistant, UV stable and provide the ultimate non-stick surface for 3D resin printing.
nFEP is perfectly smooth - smoother than FEP film - with great air permeability, which leads to less vacuum suction force. So, you will have lesser to no failed prints compared to standard FEP film.
nFEP film comes in 2 different sizes 140 x 200mm - 1 pc and 200 x 280mm - 1 pc according to your printer size.
Features:
Up to 96% light transmittance
Higher heat resistance
High Quality
Thickness 0.15mm
nFEP Film protected by front & back protective films
Sizes:
140mmx 200mm - suitable for all small size resin 3D Printer i.e Anycubic Photon M3 / Photon S /Mono SE, Voxelab Proxima, Creality LD-002H/ LD-002R, Elegoo Mars 2 Pro, Elegoo Mars, Elegoo Mars Pro, Elegoo Mars 3, Wanhao D7, Zortrax Inkspire, Sonic mini 4K.
200mmx 280mm - suitable for bigger size resin 3D Printer i.e Anycubic Photon M3 Plus/Mono X, Elegoo Saturn, Creality LD-006
Suction force comparison (nFEP vs FEP film)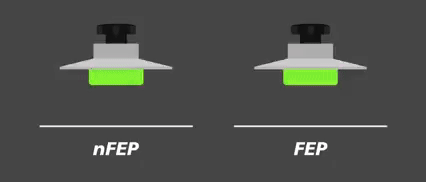 Sold by 3D Gadgets Malaysia.
Package Includes:
1 x nFEP 140x200mm or 200x280mm
No customer reviews for the moment.