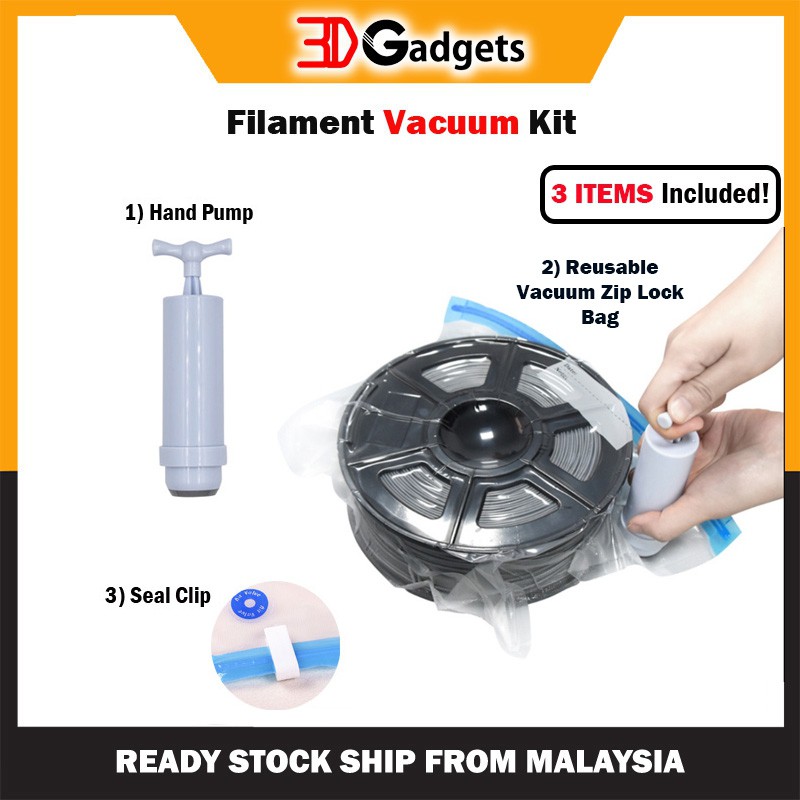  
Filament Vacuum Kit
We Accept:

NOTE: This package does not include filament and silica dessicant bag.
In 3D Printing, proper filament storage is very important to preserve the filament in good condition and prevent it from absorbing moisture which will affect print quality.
Features:
- Reusable Filament Vacuum Storage Bag, bilateral seal and anti- leak valve.
- Suction Hand Pump with tight air hole prevent leakage. 
4 Items Filament Vacuum Kit
1 x Reusable Filament Vacuum Storage Bag
1 x Suction Hand Pump
1 x Sealing Clip - to effectively seal the storage bag
1 x Reusable Humidity Indicator Card - Environmentally friendly cobalt-free humidity indicator card, indicating range 10%~60%. Brown = Dry, Azure = Wet
Note: When the humidity reaches 50%, it is recommended to replace the silica dessicant bag. Store in a dry, cool environment; avoid direct sunlight and water. The humidity card can be reused after drying in an oven or hot air.
Sold by 3D Gadgets Malaysia.
No customer reviews for the moment.
Customers who bought this product also bought: