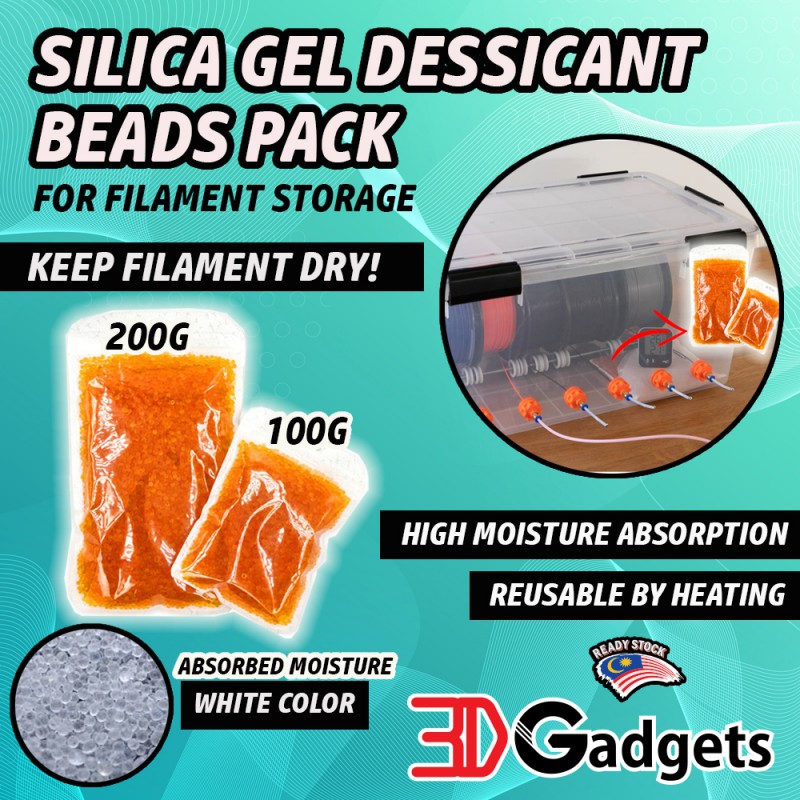  
Silica Gel Dessicant Beads Pack 100g/ 200g for 3D Printer Filament Storage
Ship On Next Business Day
We Accept:

Storing filament is a very important step to keep filament from absorping moisture and dust which will affect the quality of the filament. This Silica Gel Dessicant Pack is suitable to be placed together with filaments in an airtight container/box/ ziplock bag.
Features:
1. Safe and harmless and reusable.
2. High Moisture Absorption - changes color from orange to dark green as indication
3. Vented grid design on both sides of the box for easy viewing and absorption of moisture.
4. Suitable to be used for filament storage, electronic equipments etc., to protect against and avoids deterioration.
5. Re-drying method:
 A) Place under the sun for about 3 hours, the water on the silica gel will be evaporated
 B) Open the box, pour the silica gel orange beads on a suitable heating tray and then heat it in a microwave oven or an oven for max of 40 seconds only with temperature controlled at 80-100°C
Note: Do not heat it for too long as it will deactivate the moisture-proof beads.
Specifications
Color: Orange
Size: 100g/200g
Particle size: 90 (mesh)
Aperture: fine pore silica gel


Package Includes
1 x Silica Gel Dessicant Beads Pack for Filament Storage (100g /200g)
Sold by 3D Gadgets Malaysia
No customer reviews for the moment.
Customers who bought this product also bought: