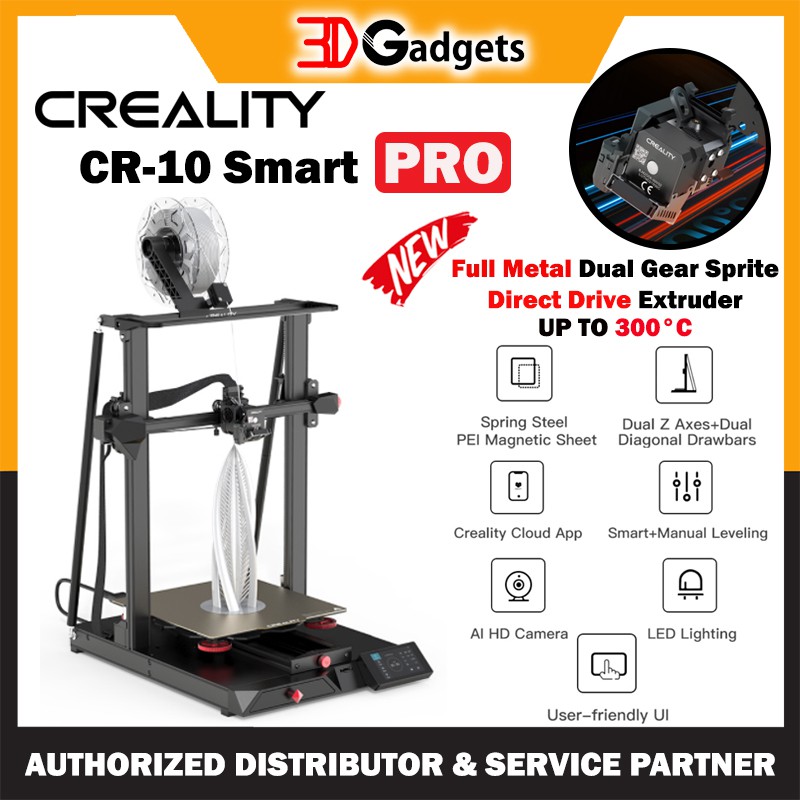  
Creality CR-10 Smart Pro Direct Drive Semi DIY 3D Printer
Support Wi-Fi/Bluetooth/RJ45

Remote Control via Creality Cloud App

Dual-mode Levelling

Equipped with AI HD Camera and LED Light

Full-metal Dual-gear Direct Extruder Compatible with Diverse Filaments

Spring Steel PEI Magnetic Sheet Bendable to Take Out Models

Print Size 300x300x400mm.
We Accept:

The all-new Creality CR-10 Smart Pro Semi DIY 3D Printer (FDM 3D Printer) with a build size of 300x300x400mm is an advanced version of the widely recognized CR-10 Series 3D Printer. The first highlight of the CR-10 Smart Pro is the all-new full metal dual gear sprite direct drive extruder that can go up to 300°C which makes it compatible with a wide range of filaments like TPU filament, PLA Filament, PETG filament, ABS filament, carbon fiber and more. 
Secondly, it has a dual-levelling mode (smart + manual) equipped with both cr touch & levelling knob to provide more accurate levelling. AI Cloud Control is also one of the interesting features of CR-10 Smart Pro where there is built-in smart WiFi, Bluetooth and Creality Cloud APP that enable users to remote control the printing anytime and anywhere. Besides that, it also comes with an AI HD Camera where users can monitor the prints in real-time with handheld smart controls.
Creality has further strengthened the stability and accuracy of CR-10 Smart Pro by adding Dual Z Axes + Dual Diagonal Drawbars. As for the print surface, CR-10 Smart Pro comes with a Spring Steel PEI Magnetic Sheet which provides good adhesion and much easier to remove prints. Another added feature is that it comes with a LED light as well.
There is Creality CR-10 Smart Pro review by users on YouTube.
Creality CR-10 Smart Pro Semi DIY 3D Printer
Features:
Creality Cloud App: 

Remove controls integrate intelligence and Pleasure

Smart+Manual Leveling: 

Dual-mode leveling ensures a great-looking first layer

Al HD Camera: 

Real-time HD and handheld smart controls

LED Lighting: 

Veco-friendly fill light helps save on energy

Full-metal Dual-gear Direct Extruder: 

Strong extrusion and high filament compatibility

Dual Z Axes+Dual Diagonal Drawbars:

 Stable operations and enhanced accuracy

User-friendly UI: 

Sensitive touch operation easy to use

Spring Steel PEI Magnetic Sheet: 

Strong adhesion, durable easy prototype-fetching
Specifications
Molding technology: FDM
Print dimension: 300 * 300 * 400 mm
Machine dimension: 578 * 522 * 648mm
Package dimension: 660 * 575 * 290mm
N.W.: 13.6kg
G.W.: 17kg
Slice software: Creality/Cura
Print accuracy:±0.1mm
Nozzle diameter: 0.4mm
Nozzle Material: Chromium zirconium copper
Extrusion Method: Direct Drive
Hotbed temperature: <100 ℃
Nozzle temperature: <300℃
Layer height: 0.1mm-0.4mm
Rated Power: 350W
Power supply: AC 110-240v, DC 24V
Supported Materials: PLA/TPU/PETG/ABS/Wood high-temperature printable PA, carbon fiber
Filaments Diameter: 1.75mm
Cloud Platform Support: Creality Cloud
Display: 4.3-inch HD full viewing angle screen
Touch Screen: Capacitive multi-touch screen
Camera: Al Camera
Print Medium: SD Card/Wi-Fi/Network
Network Connection: Wi-Fi/Bluetooth/RJ45
Supported Languages: 9 Languages (Chinese, English, German, Spanish, French, Italian, Portuguese, Russian, and Turkish )





Package Includes

1 x Creality CR-10 Smart Pro Semi DIY 3D Printer
No customer reviews for the moment.
Customers who bought this product also bought: