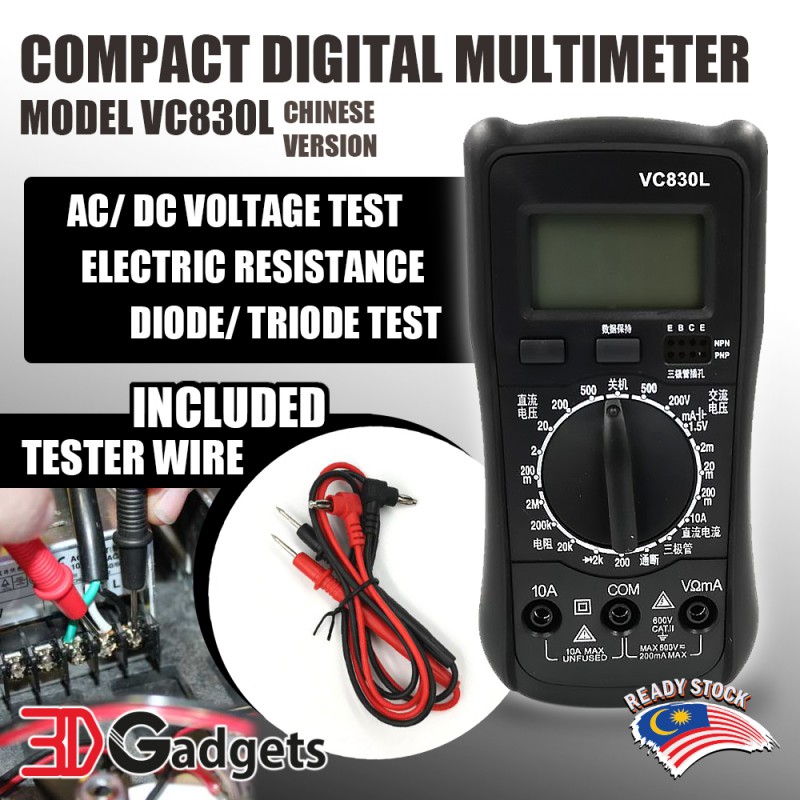  
Compact Digital Multimeter VC830L for FDM 3D Printer Check Diagnose Voltage (Chinese Version)
Ship On Next Business Day
We Accept:

The VC830L is a digital multimeter that is used to measure different electrical parameters such as voltage, current, resistance, and continuity. It is a handheld device that is commonly used by technicians, electricians, and hobbyists for a variety of applications.

Here are some of the key features of the VC830L digital multimeter:

LCD Display: The VC830L features a large LCD display that can display up to 1999 counts. This makes it easy to read and interpret the measurements.

Auto-ranging: This multimeter has an auto-ranging feature that allows it to automatically select the appropriate range for the measurement being taken.

Functionality: The VC830L can measure AC/DC voltage, AC/DC current, resistance, continuity, and diode testing. It can also be used to test for transistor hFE.

Safety: The device has overload protection and a low battery indicator to ensure safety during usage.

Ergonomic design: The device is designed to be compact and lightweight for easy portability and comfortable handling.

Power source: The VC830L is powered by a 9V battery that can last for a long time.

Overall, the VC830L digital multimeter is a reliable and easy-to-use device that can be used for a variety of electrical measurements. It is a good choice for professionals as well as DIY enthusiasts who need to measure different electrical parameters accurately and quickly.
Compact Digital Multimeter
Model: VC830L
Type: Digital Multimeter
Measurement function: battery, resistance, DC current, AC voltage, DC voltage
Auto Range: No
On-off beep test: yes
Diode Test: Yes
Data retention: no
Auto Shutdown: No
DC voltage range: 200mV-600V
AC voltage range: 200-500V
DC current range: 2mA-10A
AC current range: no AC current function
Capacitance range: no capacitance function
Standard accessories: battery, test pen, manual
Storage temperature: -15℃-50
Working temperature: 0°C-40
Working relative humidity: <75%
Package Includes :
1 x Compact Digital Multimeter VC830L
Sold by 3D Gadgets
No customer reviews for the moment.