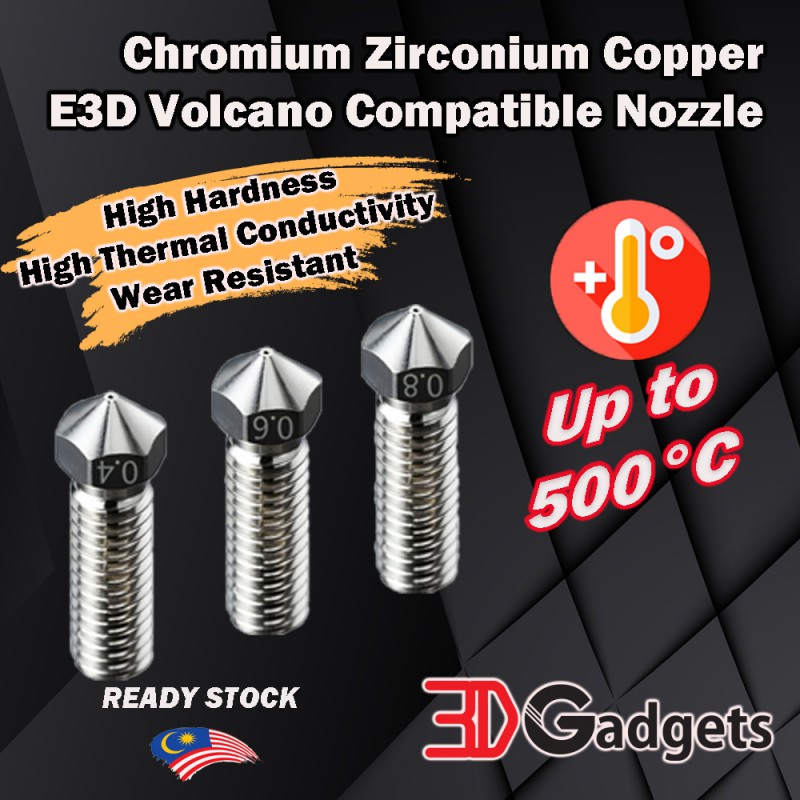  
Chromium Zirconium Copper E3D V6 Volcano Compatible Nozzle 1.75mm for 3D Printer
Ship On Next Business Day
- High Hardness
- High Thermal Conductivity
- Wear Resistant
- Suitable for abrasive filament
We Accept:

The Chromium Zirconium Copper E3D V6 Volcano Compatible Nozzle is a high-performance component used in 3D printers. Designed specifically for 1.75mm filament, this nozzle is compatible with the popular E3D V6 Volcano hotend system. The Chromium Zirconium Copper nozzle is made of high-quality chromium zirconium copper, a material that is known for its excellent thermal conductivity and resistance to wear and corrosion. This results in improved printing efficiency and durability. The Chromium Zirconium Copper nozzle provides precise and consistent extrusion, making it an essential component for anyone looking to achieve high-quality 3D prints.
Features:
- High Hardness
- High Thermal Conductivity
- Wear Resistant
- Suitable for abrasive filament
Specifications:
Size: M6x 21mm
Filament Size: 1.75mm
Material: Chromium Zirconium Copper
Weight: 3.6g
Sold by 3D Gadgets Malaysia
No customer reviews for the moment.