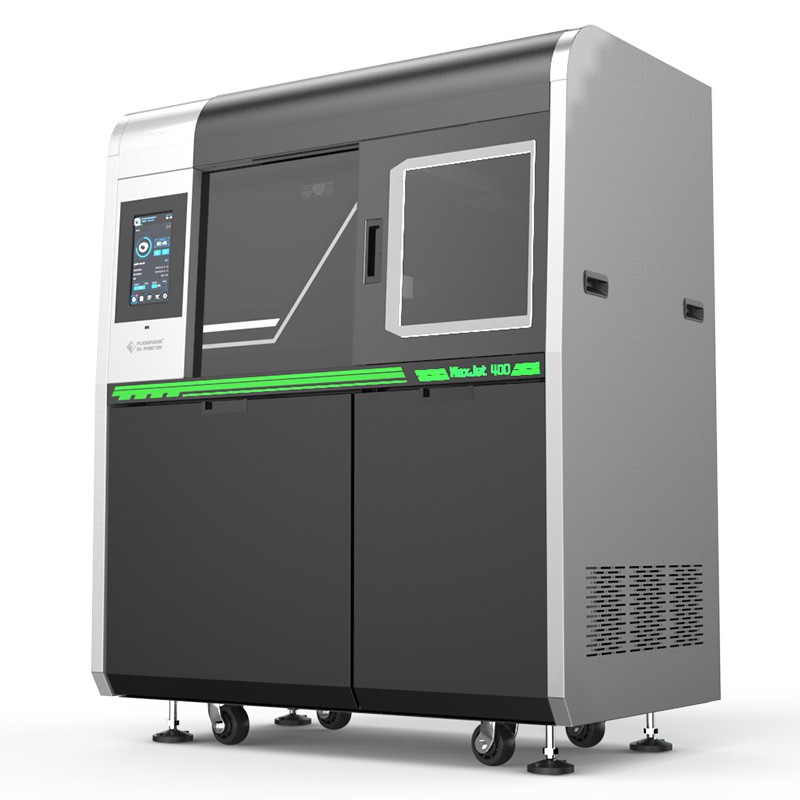  
Flashforge WaxJet 410 High Precision Wax Casting 3D Printer
WaxJet 410 adopts mutiJet printing technology deliver smooth surface, high precision casting wax pattern with razor-sharp edges and extreme crisp details on each print. Suitable for designers and manufacturers of wax patterns for highly complex geometric shapes, jewelry,  apparel, medical instruments and devices, mechanical parts, and collectibles.
We Accept:

WaxJet 410 suitable to be used for jewelry, clocks instruments, crafts, precision casting and aerospace precision investment casting field. With special designed print head it can print at the XHD((Extreme High Definition)):1200*1200*1600  DPI and 16μ of each layer.  WaxJet 410 also designed for volume production in mind with the Molding Size of 289*218*150mm to facilitates the building of nested multiple models at the same time without sacrificing build time, together with the automated spare material loading system the entire build process can be truely unattended operation.
Two type of material will be used in WaxJet 410 which is the Structural Material and Supporting Material, both are nontoxic material and can be safely handled and transferred to a dissolve basin where the support material can be removed using isopropyl alcohol. Once the print finished dissolving the support wax is the only postprocessing needed as the surfaces of the model remaining 100 percent Wax with smooth finishing. The Printed Wax model will perform like injected wax patterns in lost-wax casting processes and are suitable for direct investment casting applications using standard investment materials and casting procedures.
High Productivity and cost effective compare to other system

Waxjet 410 Featuring fast wax patterns production, at up to 20% faster print speed than similar class 3D Printer and also close to 30-40% cheaper than similar Solution.
Tech Spec:
Molding Method: MJP
Molding Size: 289*218*150mm
Printing Mode: XHD:1200*1200*1600 DPI:16μ of each layer
Dimensional Accuracy* : ±0.04mm / 20mm
Power Supply:  210-240VAC, 50Hz, single phase, 25A
Device Size: 1352*775*1600mm
N.W.: 480kg
G.W.: 630kg
Package Size: 1530*900*1837mm
Slicing Software: WaxJetPrint
Data Support Format: stl / slc
E-mail Notify: Applicable
Disk Capacity: 500G
Network Connection: Network 10/100/1000 ethernet / USB
Client Operating System: Windows 7 / Windows 10 (64bit)
Operating Environment: 18-28℃, 30-70% of humidity
No customer reviews for the moment.