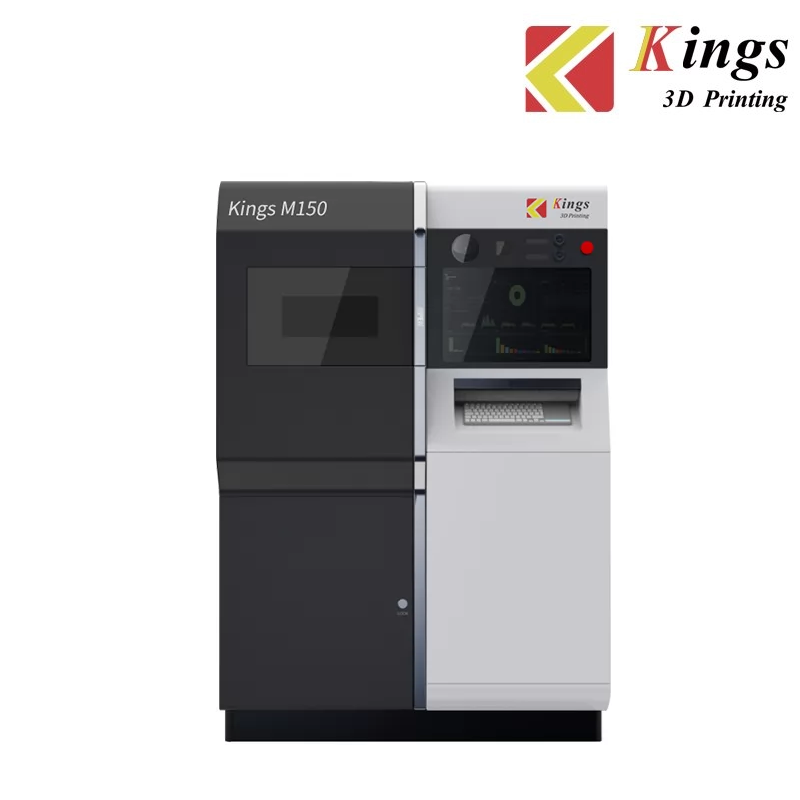  
Kings M150 SLM Metal 3D Printer
High precision & high quality: Supports 20μm laser spot size. Precisely print out every structural details. Adopting a concentrated laser, the energy greatly enhances the density and strength of the printed part.
We Accept:

The Kings M150 SLM metal 3D Printer is a cutting-edge additive manufacturing solution that redefines precision and versatility in the world of 3D printing. With its advanced features and exceptional build quality, this printer is designed to meet the demands of professionals, researchers, and industries alike.
At the heart of the Kings M150 is Selective Laser Melting (SLM) technology, a powerful method that uses a high-powered laser to selectively fuse fine metal powders, layer by layer, into complex and high-strength metal parts. This process ensures unparalleled precision and repeatability, making it ideal for industries like aerospace, automotive, healthcare, and more.
With a spacious build volume of 150 mm x 150 mm x 150 mm, the Kings M150 offers ample space for creating intricate and large-scale components. The printer is compatible with a wide range of metal materials, including stainless steel, aluminum, titanium, and more, allowing for flexibility in material selection to suit various applications.
The Kings M150 SLM 3D Printer is equipped with a user-friendly touchscreen interface, making it easy for both beginners and experienced users to navigate and control the printing process. It also boasts a robust cooling system to ensure consistent and reliable printing results, reducing the chances of warping or defects in your final products.
One of the standout features of the Kings M150 is its speed and efficiency. The high-powered laser and advanced control systems enable rapid printing speeds while maintaining the utmost accuracy and surface finish quality. This makes it an excellent choice for prototyping, production, and research and development projects.
Whether you're looking to create complex aerospace components, medical implants, or intricate art pieces, the Kings M150 SLM 3D Printer is your trusted partner. Its precision, reliability, and versatility make it a valuable addition to any workspace, pushing the boundaries of what's possible in the world of metal 3D printing. Elevate your 3D printing capabilities with the Kings M150 SLM 3D Printer and unlock a world of endless possibilities.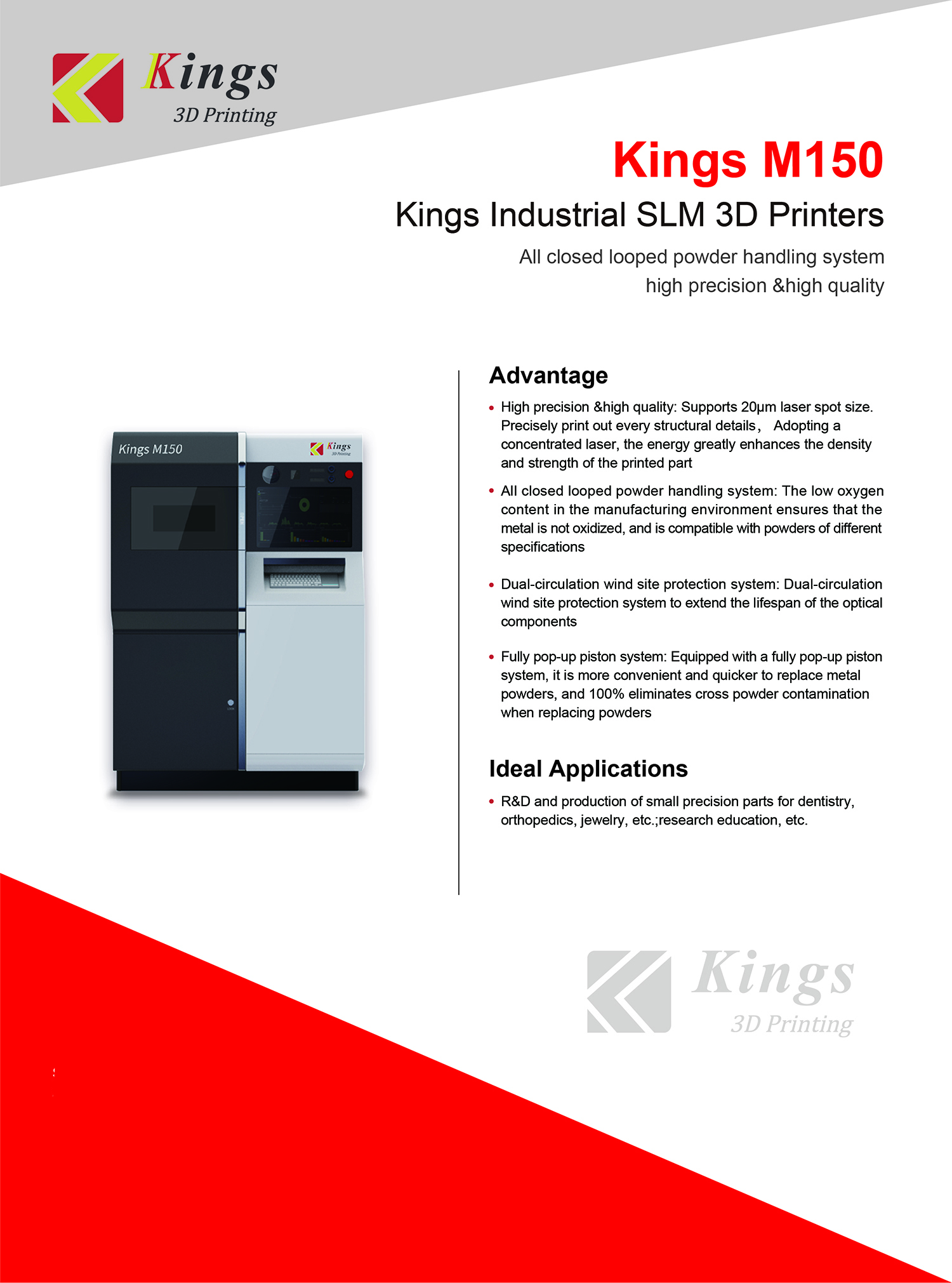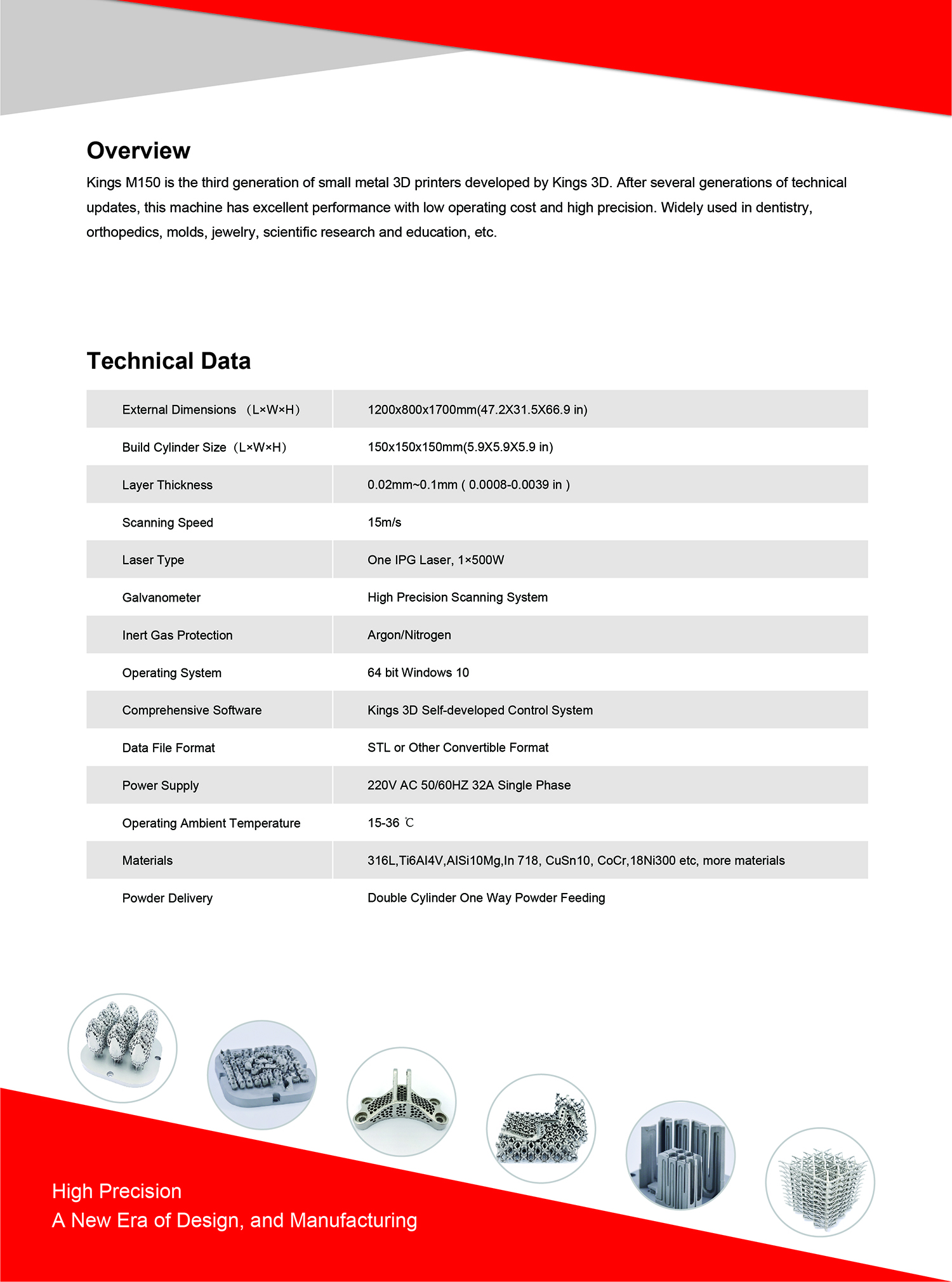 Sold by 3D Gadgets Malaysia.
No customer reviews for the moment.