 
Magma Castable Dental Resin 500G
Ship On Next Business Day
MAGMA DENTAL CASTABLE RESIN
The dental encapsulating resin series has no residue, high precision and low shrinkage, providing dentists with high-quality crowns and brackets.
We Accept:

Magma H Line Castable Resin
Magma Castable Resin is specifically formulated to be used in 3D printing which captures the finest detail, smooth and strong prints. Our resin has the properties of low shrinkage and low odour which makes it user- friendly. It is suitable for most DLP 3D Printer that utilizes UV light source or laser.
LCD/ MSLA
100 microns: 16 sec to 20 sec
50 microns: 10 sec to 15 sec
Bottom: 70 sec to 100 sec
DLP/ MSLA
100 microns: 5 sec to 7 sec
50 microns: 2 sec to 4 sec
Bottom: 10 sec to 30 sec
NOTE: The exposure time should be adjusted according to printer light energy, layer height and model structure.
Density (g/cm3):  1.05- 1.13
Viscosity (MPa·s): 50-170 
Hardness(Shore D): 80-88 D
Tensile strength (MPa)
:
42
-62
Flexural strength (MPa): 
49-58
Flexural modulus (MPa): 1192-2525
 IZOD Impact Strength (j/m): 44- 49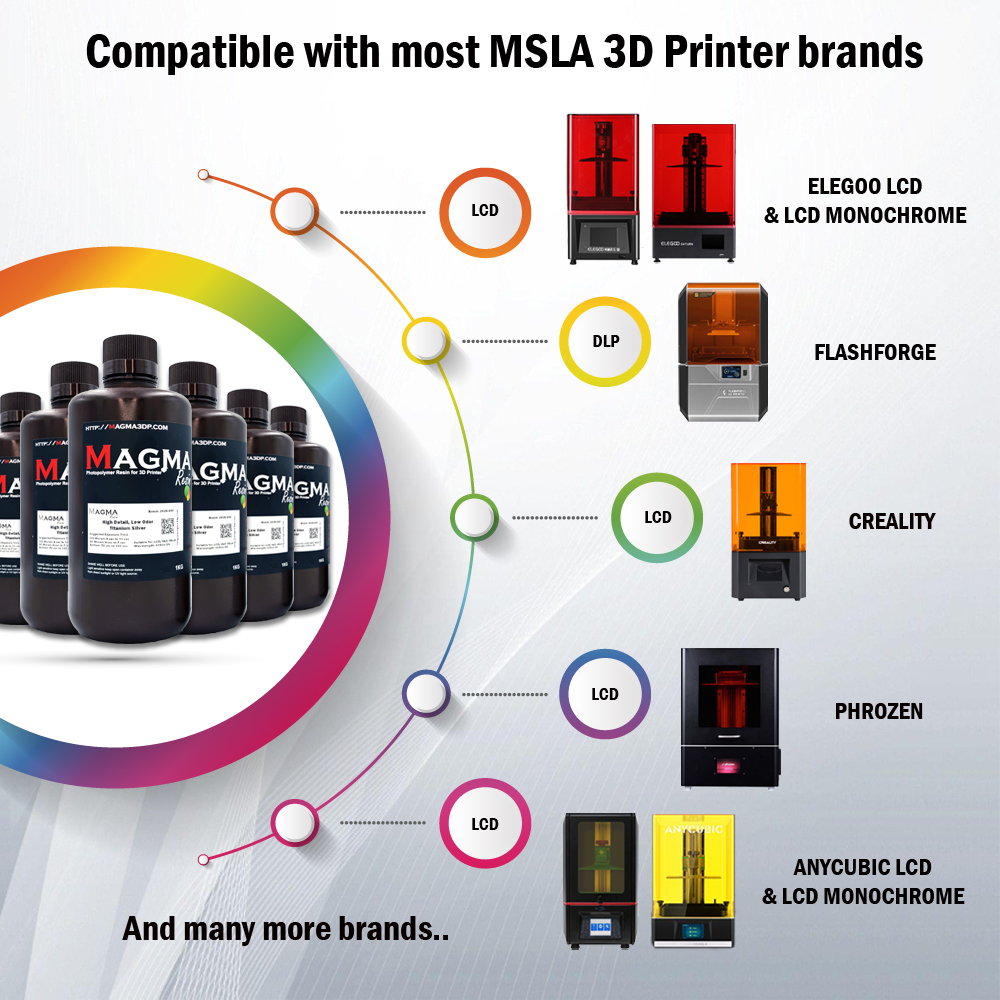 Benefits
      

High strength

      

Fine details

      

Smooth Finishing

      

Low shrinkage

      

Low odour resins

      

Affordable
Storage
      

Shake well before each use

      

Magma Castable Resin is packed

in

opaque UV safe bottle for ease of handling and safe storing.

      

Recommended storage temperature at 15-27°C (59-80°F)

      

Avoid storing the resin in environments exceeding 60°C
Important Safety Notices
      

Please use non-powdered nitrile gloves while handling with resin.

      

Do not heat this product as photopolymer resins may produce vapours that may cause discomfort when exposed to high temperatures.

      

Please keep the resin in a well-ventilated space

      

Keep the product out of children's reach.

      

Avoid skin or eye contact with the uncured resin. If accidental contact occurs, please immediately rinse the affected area thoroughly using clean water.

       The uncured

 resin in the tank may harden if exposed to sunlight before disposal. Be aware when discarding uncured resin and do not dispose of the    uncured resin directly into the sink.

      

After printing, please clean the uncured resin on the surface of the printed object using isoprophyl alcohol.
Sold By 3D Gadgets Malaysia
No customer reviews for the moment.