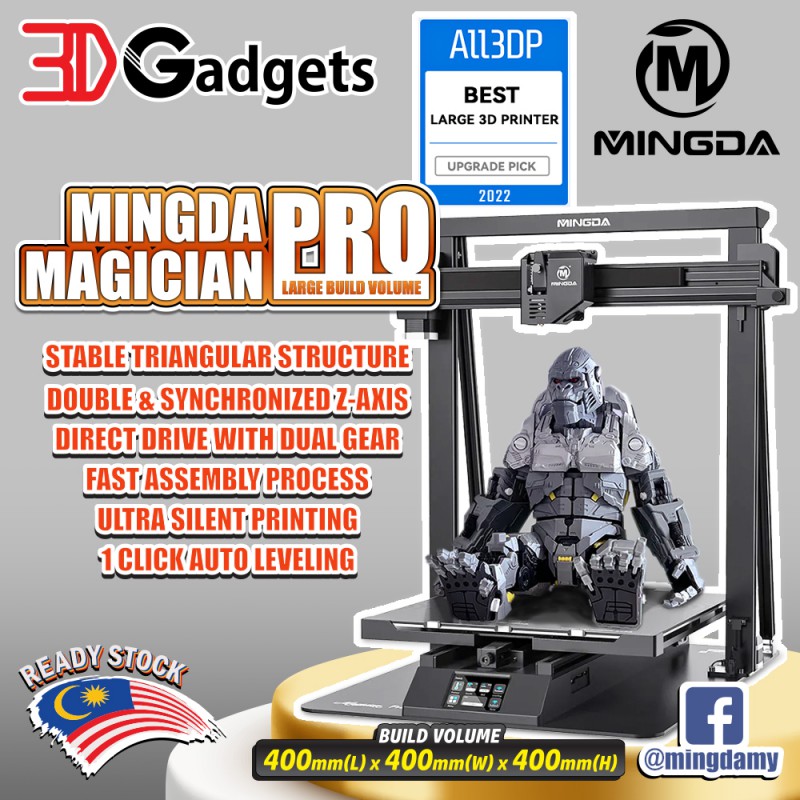  
MINGDA Magician Pro Direct Drive 3D Printer
Ship On Next Business Day
● Print size: 400mm×400mm×400mm(H)
● Calibration: Self-developed Automatic Leveling, 36 Points
● Extruder: Direct Drive, Double Gear
● Average speed: 8-10 cm/s
● Print interface: SD Card, USB, USB-C
● Z-axis: Double threaded rod with synchronous belt
We Accept:

MINGDA Magician series 3D Printer is loaded with amazing features that make this printer suitable for all generation users. Mingda 3d printer comes in 3 different models Magician X, Magician Max, and Magician Pro. Mingda has more than 12 years of experience in manufacturing industrial 3d printers and now they have landed in manufacturing consumer range 3d printers with the same standard and QC of an industrial grade machine. 3D Gadgets Malaysia is the exclusive dealer in this region.
MINGDA Magician Pro--An amazing modular FDM 3D Printer unleashes your 3D printing potential! Equipped with a new 32-bit motherboard and a high-performance Cortex-M4 architecture main control chip, MINGDA features faster computing speed and a smoother system. The integration silent driver makes the motherboard have both silent printing and precise voltage output control, which ensures a more accurate and silent printing.
Features:
Innovator of Auto-Leveling
Self-developed Auto-Leveling function will automatically fast and accurately compensate for the unevenness of the heated bed via 36-points, helping to get the perfect first layer.
Unlock Unlimited Creativity
The size increased again, reaching 400*400*400mm.
Smooth & Stable Operation
Double thread Z-axis moving parts to reduce printing wobbles.
User-friendly Touch Screen
The screen adopts a new UI interface, manipulates photos, and switches to multiple languages.
Get Started Quickly
Modular design allows the printer to be assembled in 5 minutes.
Ultra-Silent Printing
Ultra-quiet mechanical structure.
Filament Runout Detection
Equipped with a filament runout sensor, it can monitor the supply of filament intelligently.
Dual Cooling Fans
The printing head adopts a double fan two-way heat dissipation system, which cools down models rapidly.
Double Gear Direct Extrusion
Dual gears ensure more precise filament control and can prevent the filament from slipping quickly. Compatible with flexible materials.
Resume Printing Function
No need to worry about sudden power failure.
Newly Upgraded Chip of Brand Core
High-speed computing; high-performance, 32-bit frequency: 168M; Cortex-M4 CPU with FPU and DSP instruction memory protection unit
Stepping Drive - Ultra Quiet TMC
Use TMC Stepper Motor Drivers, Super Quiet and Noise Reduction, running more stable, ≤50dB silent printing
Multi Connection
Support SD card, USB and USB-C.
Belt Tensioner on X/Y Axis
Adjust the belt tightness to avoid long-term use of the printer.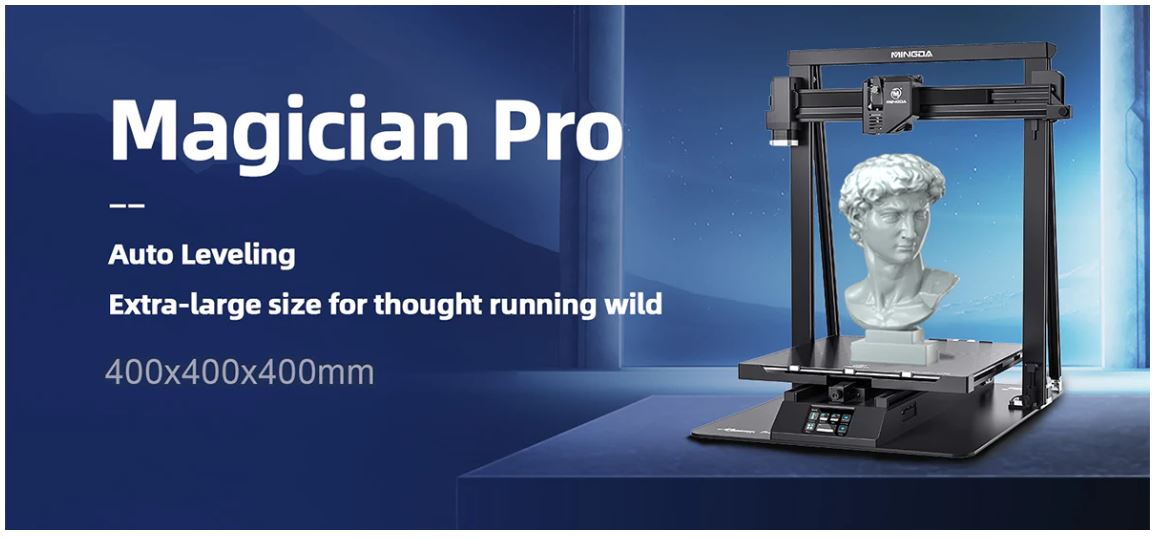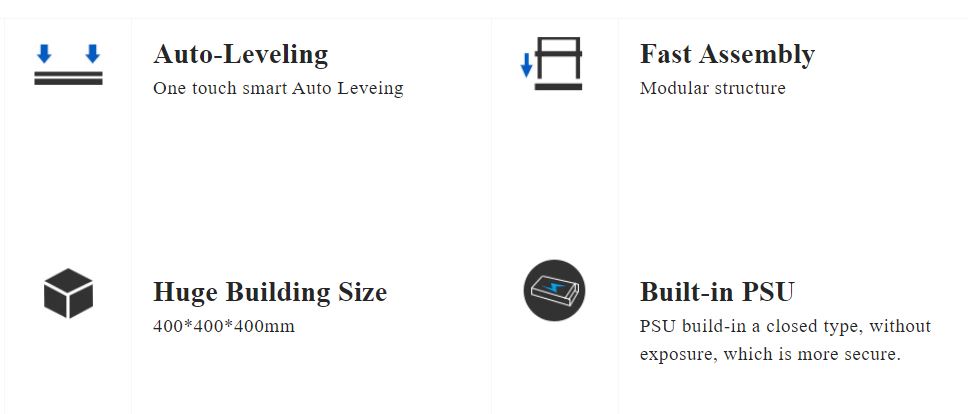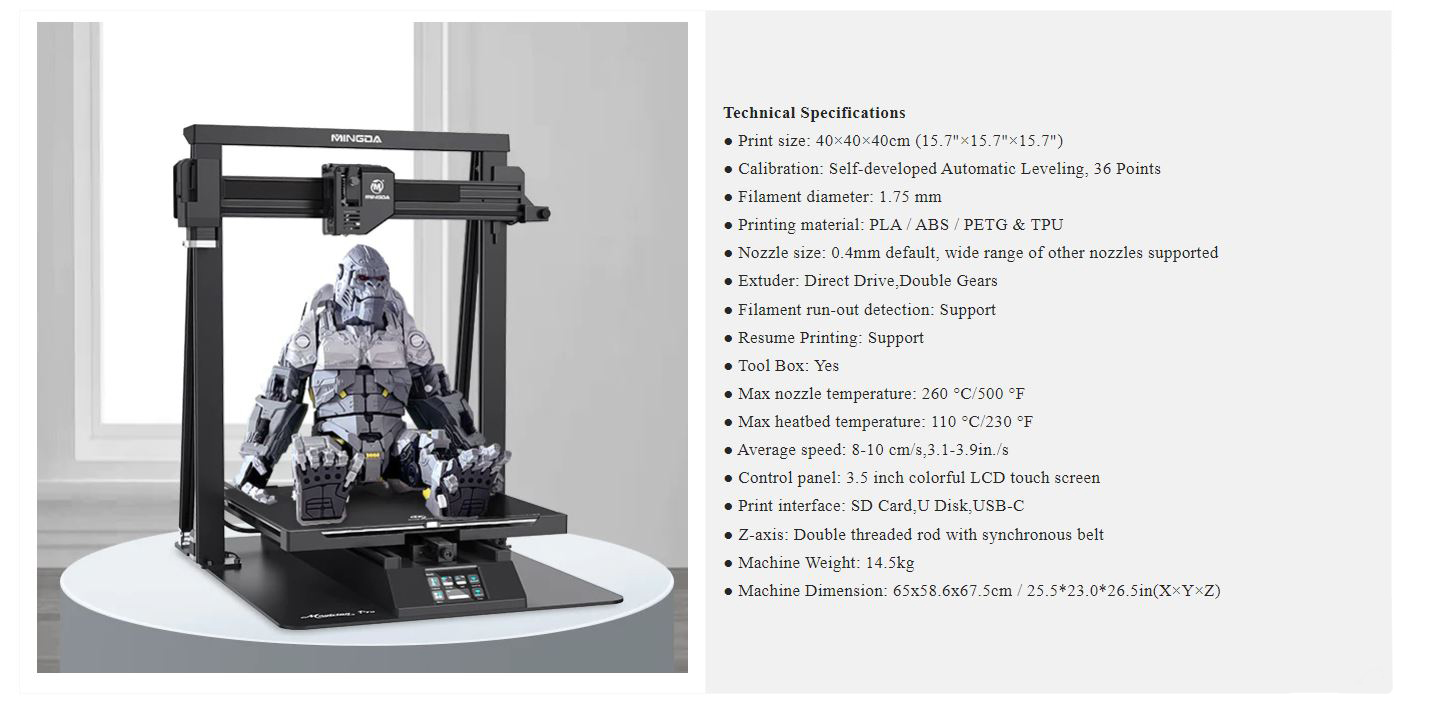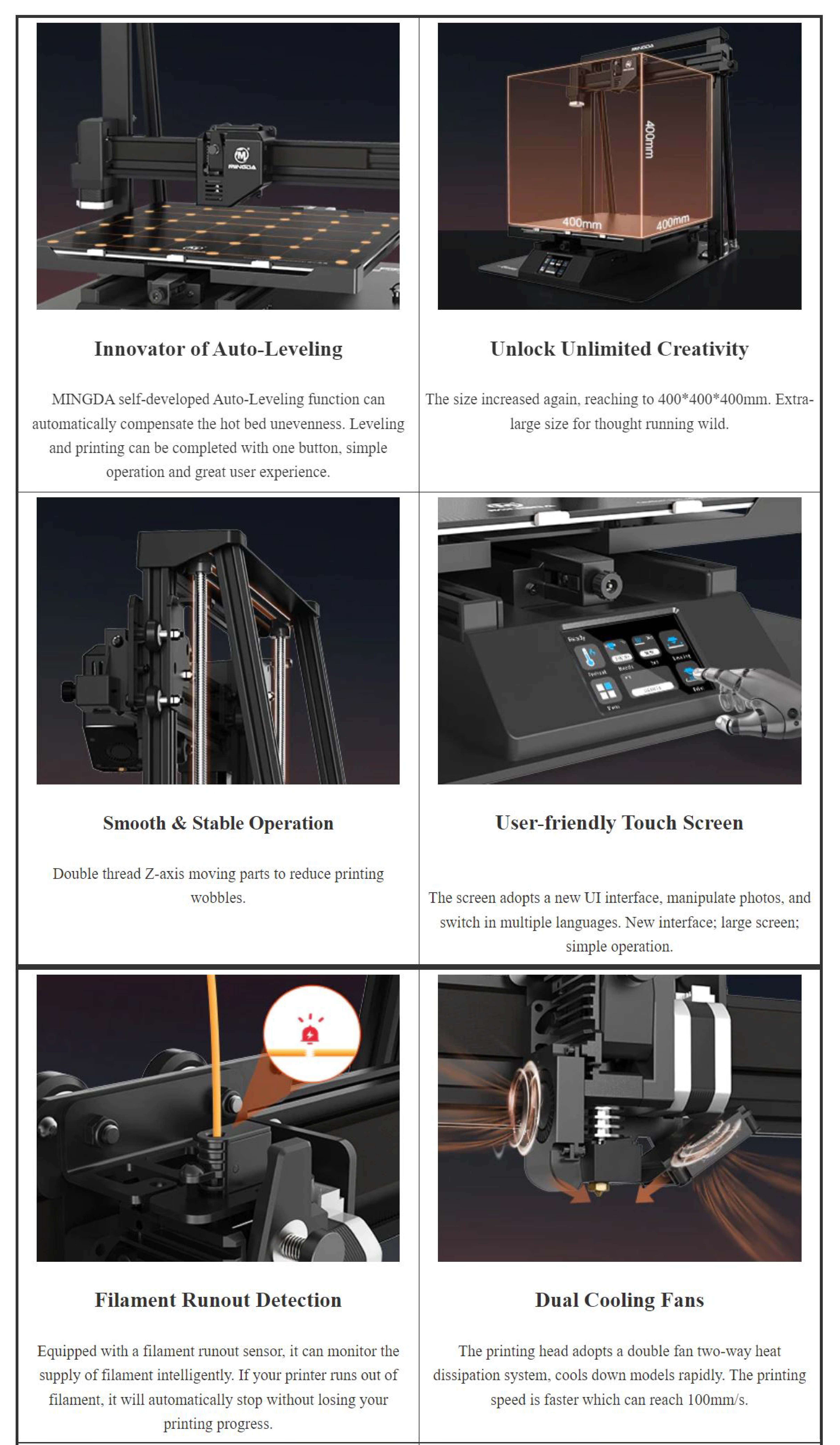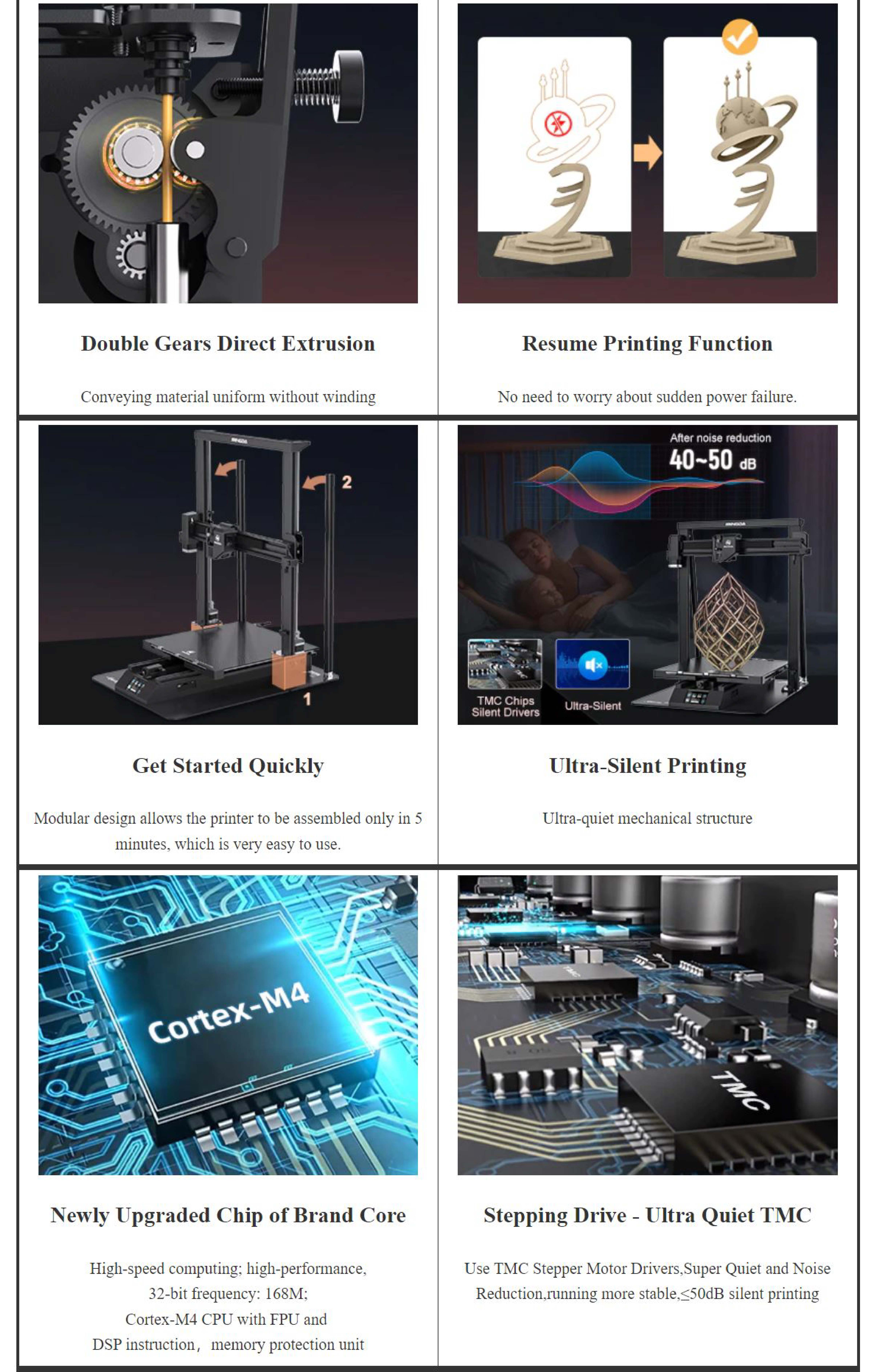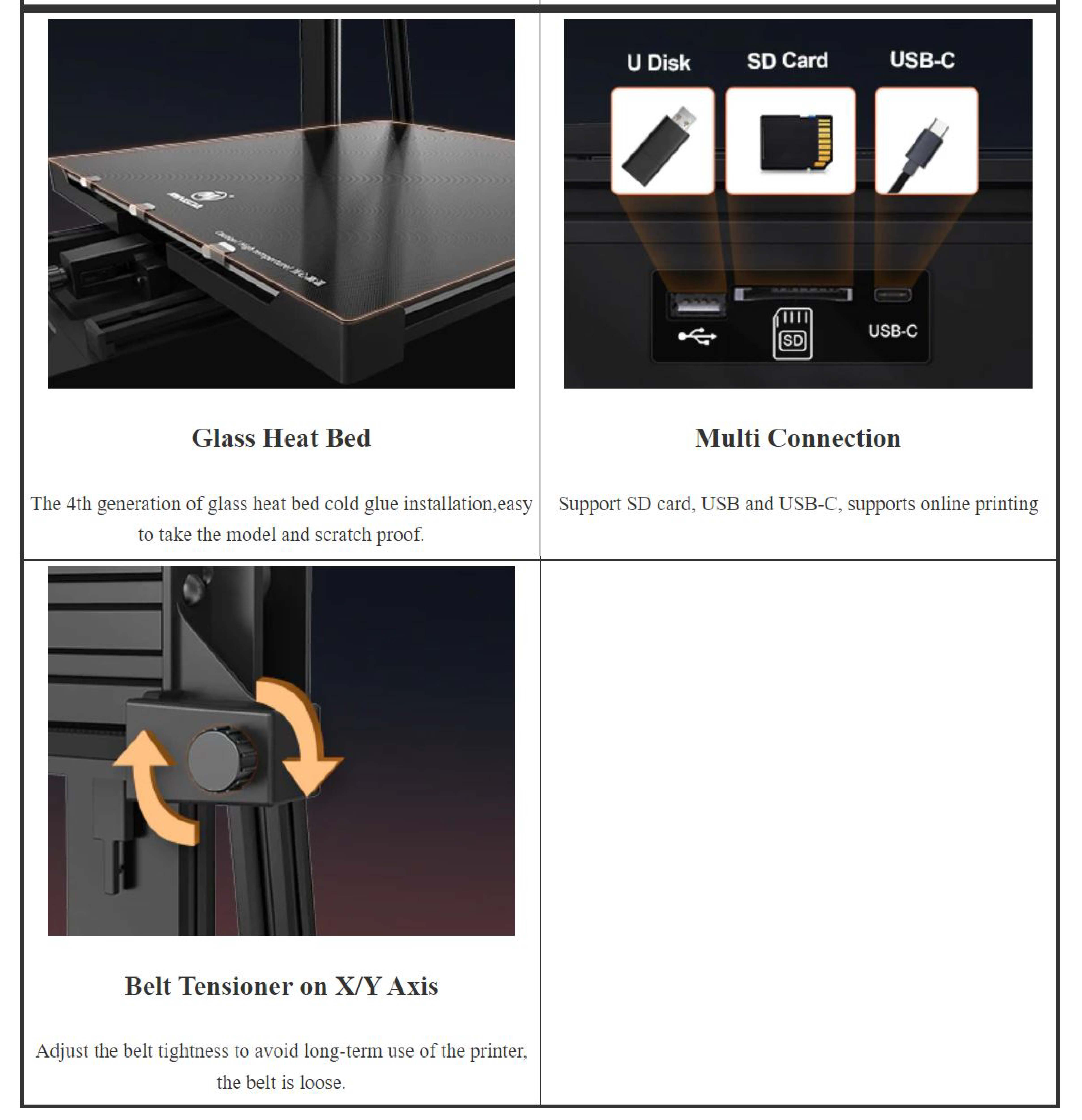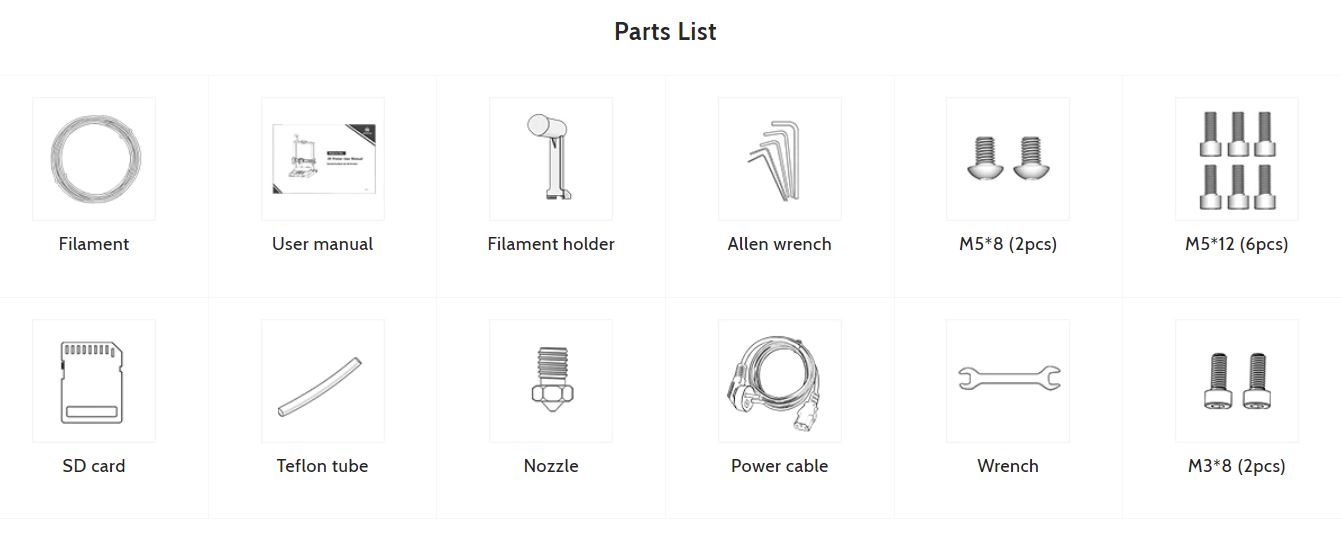 Specifications: 

● Print size: 400mm×400mm×400mm(H)
● Calibration: Self-developed Automatic Leveling, 36 Points
● Filament diameter: 1.75 mm
● Printing material: PLA / ABS / PETG & TPU
● Nozzle size: 0.4mm default, a wide range of nozzles supported
● Extruder: Direct Drive, Double Gears
● Filament run-out detection: Support
● Resume Printing: Support
● Tool Box: Yes
● Max nozzle temperature: 260 °C
● Max heated temperature: 110 °C
● Average speed: 8-10 cm/s
● Control panel: 3.5-inch colourful LCD touch screen
● Print interface: SD Card, USB, USB-C
● Z-axis: Double threaded rod with synchronous belt

Package Includes
1 x MINGDA Magician Pro Direct Drive Semi DIY 3D Printer
Sold by 3D Gadgets Malaysia
No customer reviews for the moment.