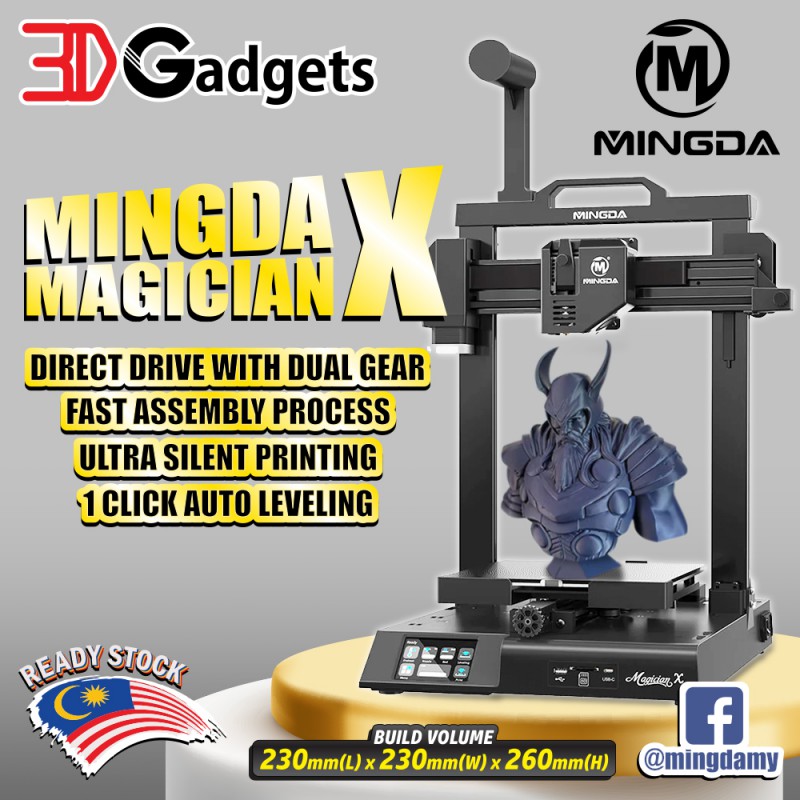  
MINGDA Magician X2 Direct Drive 3D Printer
Ship On Next Business Day
● Print size 230mm×230mm×260mm(H)
● Calibration: Self-developed Automatic Leveling
● Extruder: Direct Drive, Double Gear
● Control panel: 3.5-inch colourful LCD touch screen
● Print interface: SD Card, USB flash drive, Type C
● Z-axis: Double threaded rod with synchronous belt
We Accept:

MINGDA Magician X Direct Drive Semi DIY 3D Printer is loaded with amazing features that make this printer suitable for all generation users. Mingda 3d printer comes in 3 different models Magician X, Magician Max, and Magician Pro. Mingda has more than 12 years of experience in manufacturing industrial 3d printers and now they have landed in manufacturing consumer range 3d printers with the same standard and QC of an industrial grade machine. 3D Gadgets Malaysia is the exclusive dealer in this region.
Features:
One-Click Leveling
With just one click, the Mingda self-developed Auto-Leveling function will understand the height between the print bed and the nozzle, thus it will automatically compensate for the unevenness of the heated bed while printing. This prevents from the nozzle scratching the bed surface.

Ready to Print
Just mount the Z frame with 3 screws on each side and it is ready to print
Smooth Printing Quality
Equipped with a newly upgraded dual gears direct extruder built-in with a filament sensor, which makes the filament loading easier, utilizes until the end of the filament without pausing (save filament) while double gear holds the filament firm and avoids skipping of filaments and flow smoothly. 

Fast Printing
The maximum printing speed is 200mm/s (The average speed is 90mm/s, 200% faster than competitive products).

Automatic Filament Detection & Resume Printing
It will pause the printing process if you run out of your filament/ filament is broken/ continue printing from power failure.

A stable structure ensures accurate printing
Widened X-axis and equipped with the dual Z-axis, greatly adds stability to the X-axis gantry to improve printing quality.

Easy-to-understand LCD Screen
3.5inch touch screen adopts a new UI interface.

Safe-to-Use
Equipped with a high-quality power supply that was fully protected well inside the base cover and comes with very clean cable management.

Belt Tensioner & Built-in drawer
Belt tensioner on X, Y axis to help you tweak the tightness and easily accessible drawer to store your tools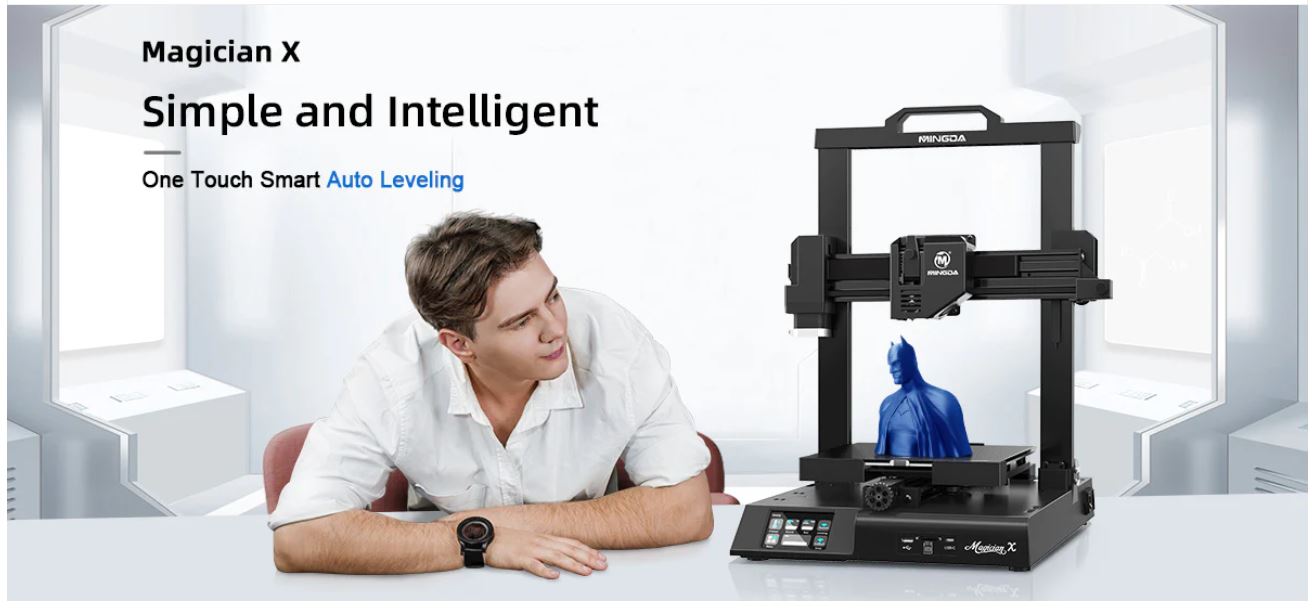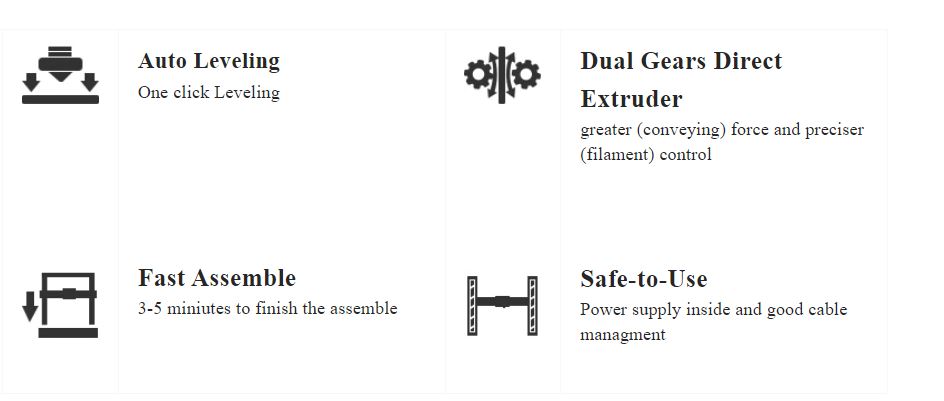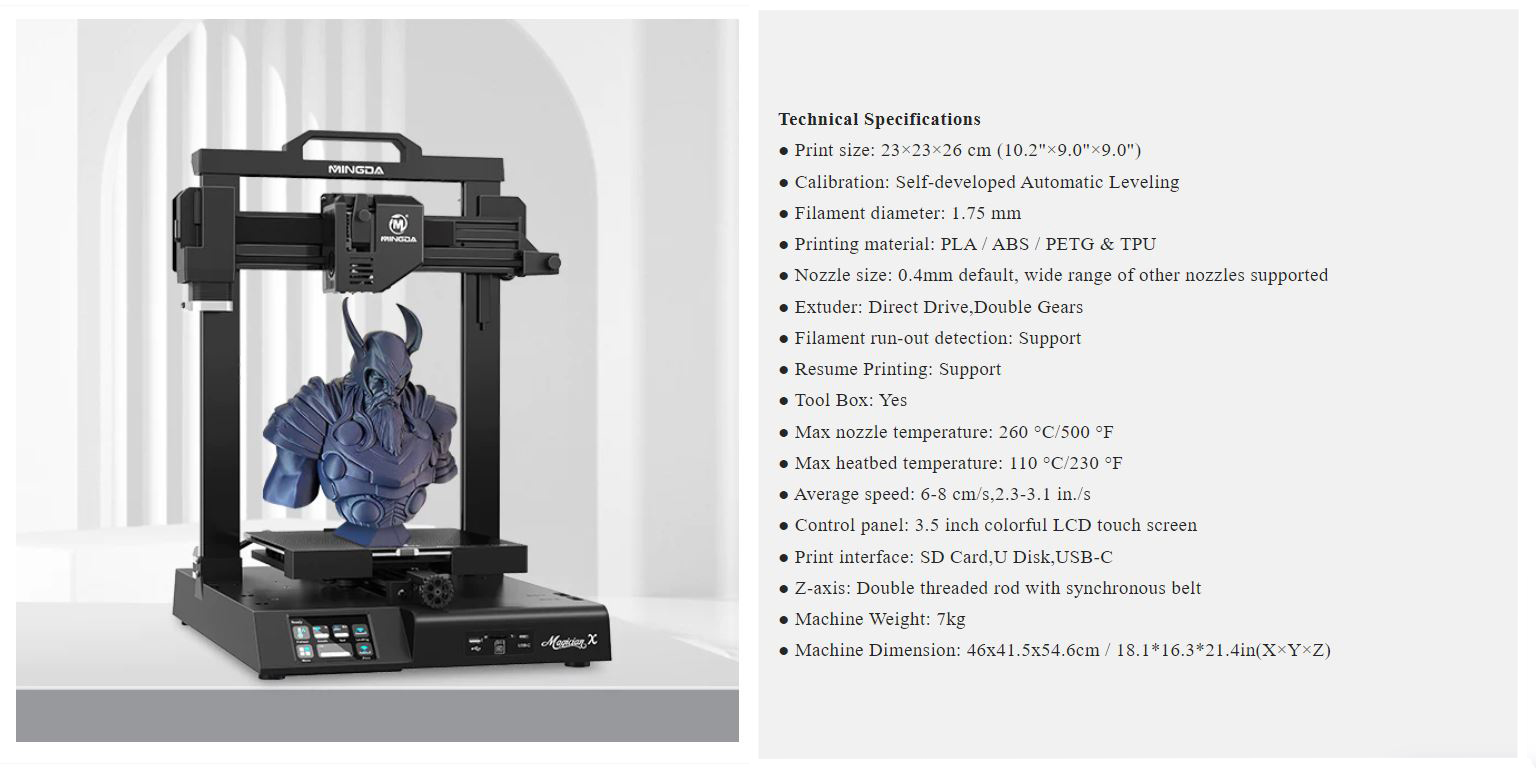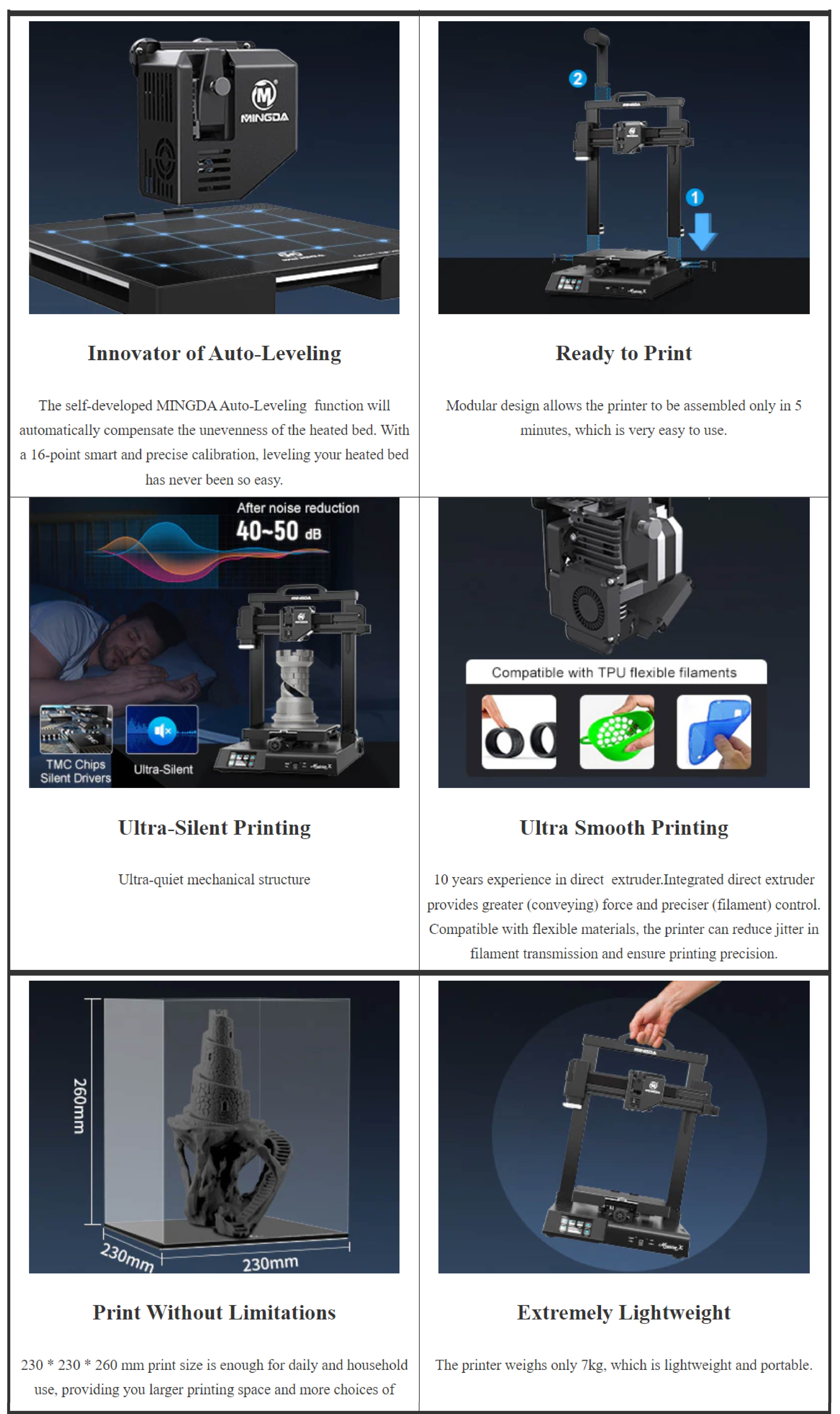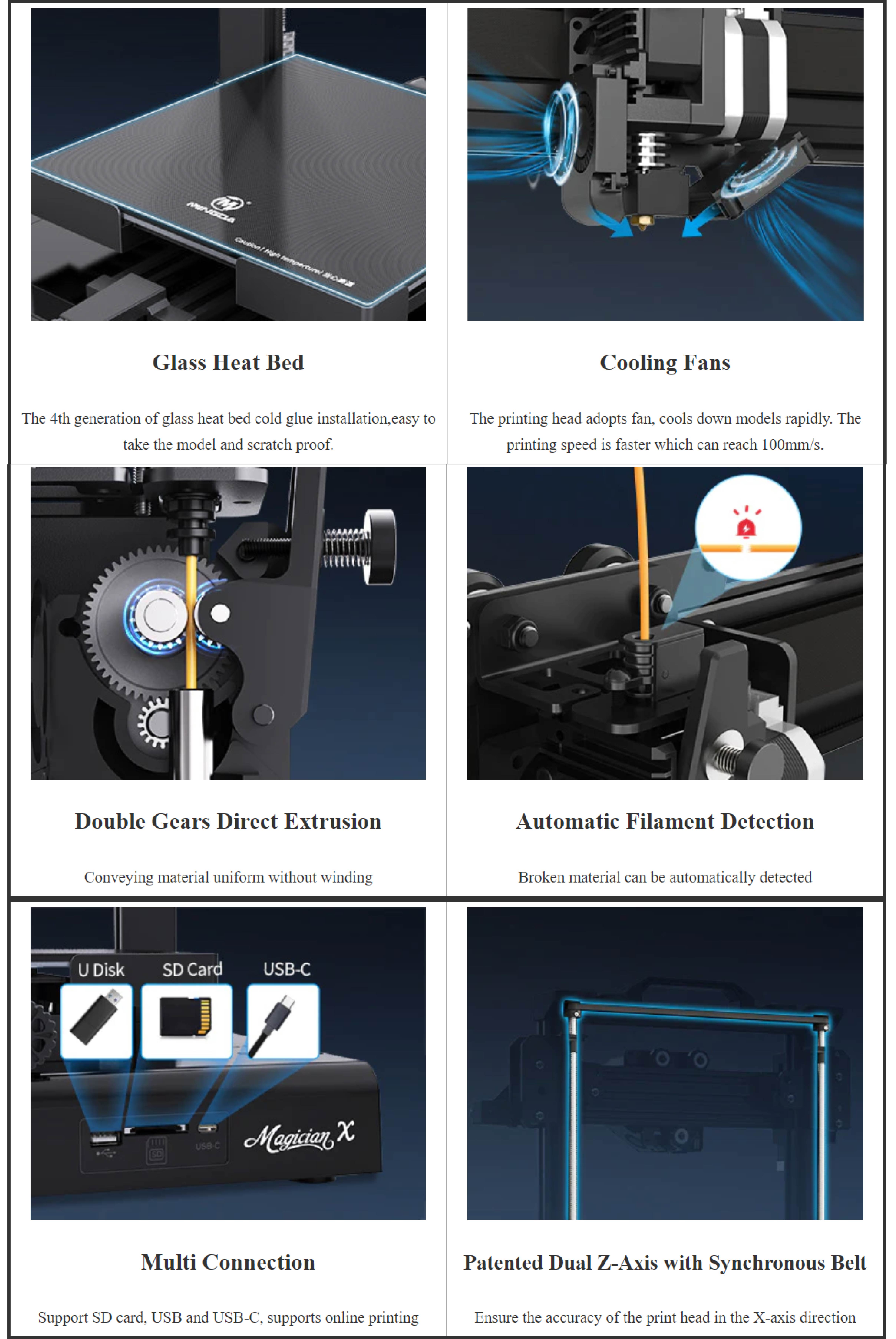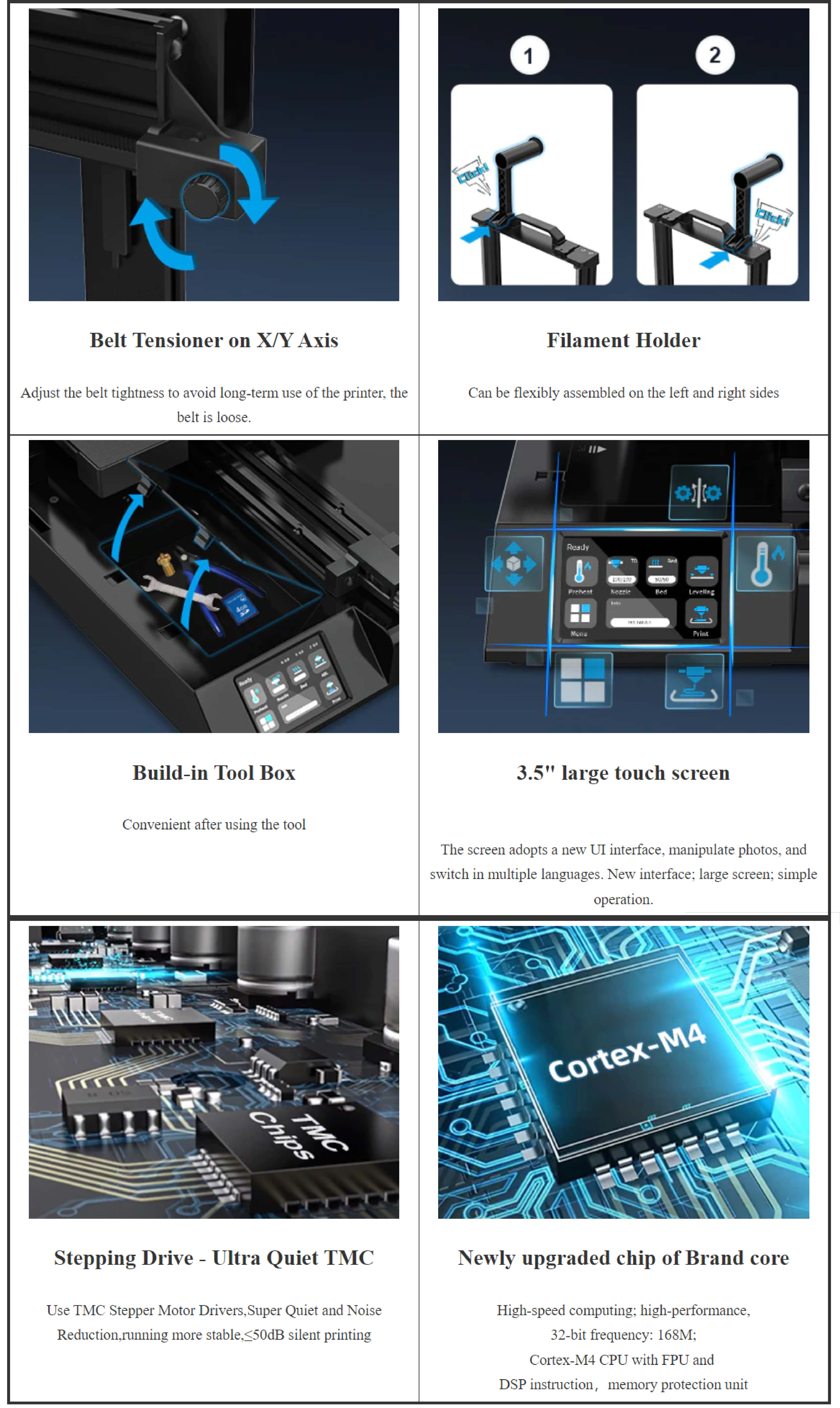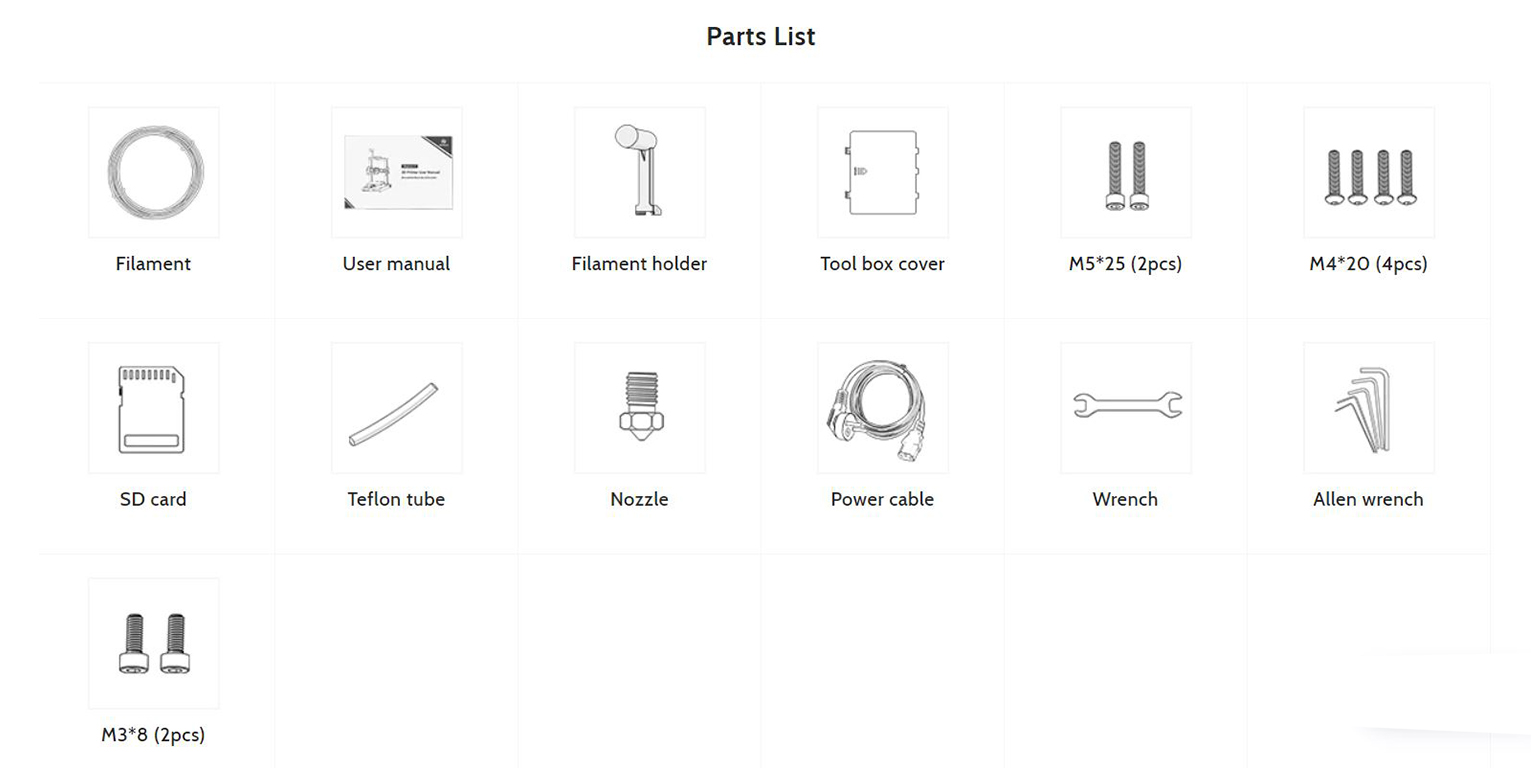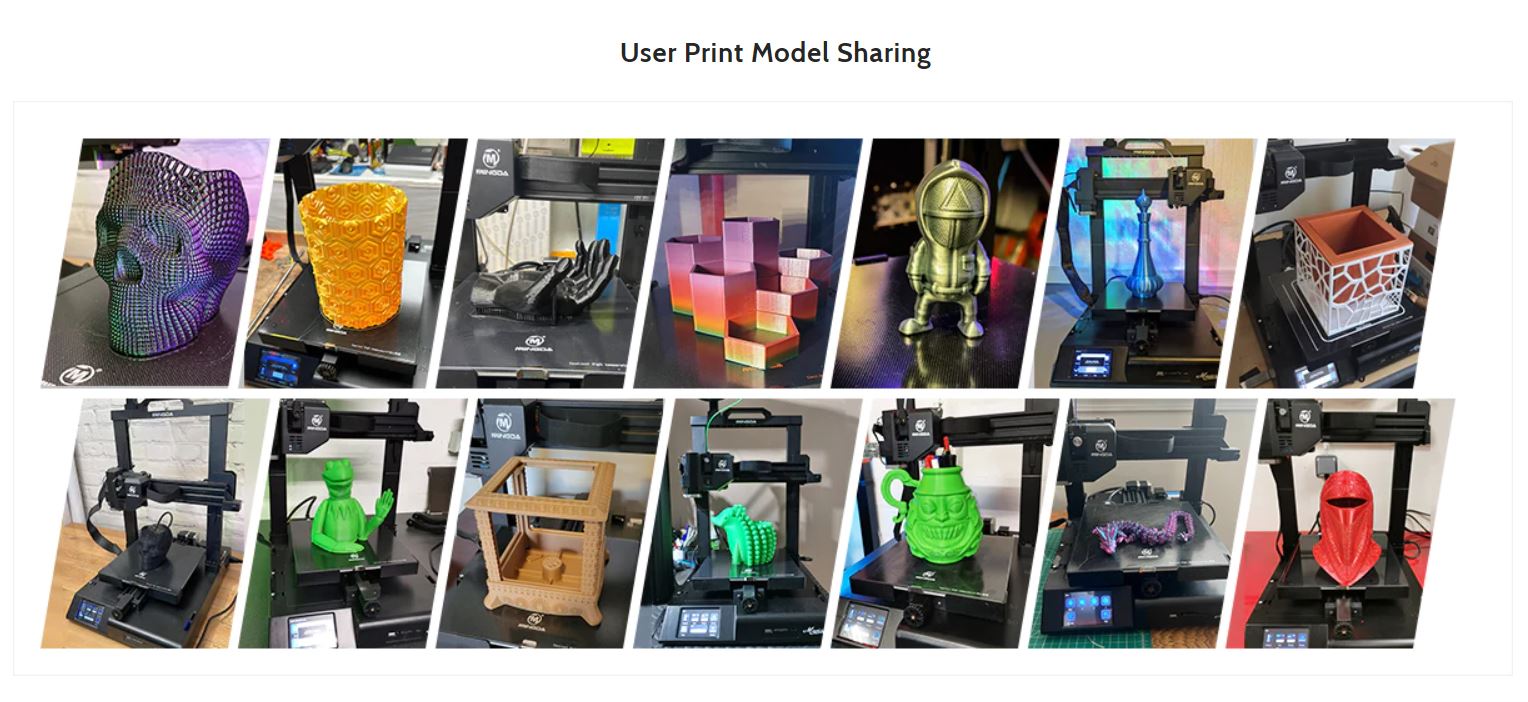 Specifications: 
● Print size: 23×23×26 cm
● Calibration: Self-developed Automatic Leveling
● Filament diameter: 1.75 mm
● Printing material: PLA / ABS / PETG & TPU
● Nozzle size: 0.4mm default, a wide range of other nozzles supported
● Extruder: Direct Drive, Double Gear
● Filament run-out detection
● Resume Printing: Support
● Tool Box: Yes
● Max nozzle temperature: 260 °C
● Max heated bed temperature: 110 °C
● Average speed: 6-8 cm/s,2.3-3.1 in./s
● Control panel: 3.5-inch colourful LCD touch screen
● Print interface: SD Card, USB flash drive, Type C 
● Z-axis: Double threaded rod with synchronous belt
● Machine Dimension: 46x41.5x54.6cm
Package Includes
1 x Mingda Magician X Semi DIY 3D Printer.
Sold by 3D Gadgets Malaysia
No customer reviews for the moment.
Customers who bought this product also bought: