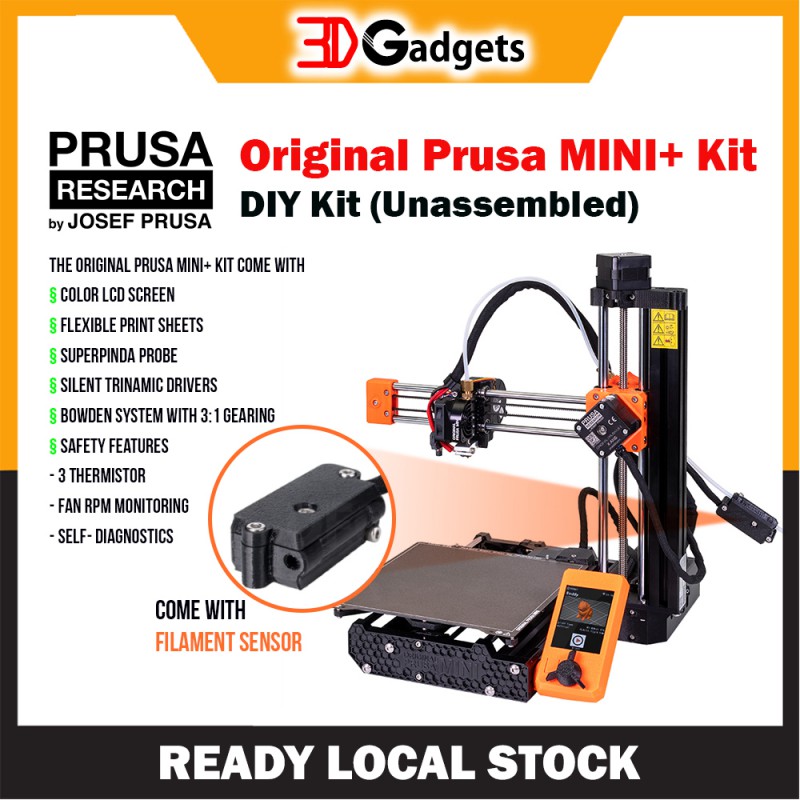  
Original Prusa Mini+ DIY Kit 3D Printer (Unassembled)
NEW FEATURES
✔️Build Volume 7"×7"×7" (18×18×18 cm)
✔️ Silent Trinamic 2209 stepper drivers
✔️ Ethernet RJ45 port and optional future ESP Wi-Fi module upgrade
✔️ SuperPINDA probe - fully-automatic Mesh Bed Leveling process
✔️ 3 thermistors
✔️ Sensorless homing for X and Y axes
✔️ Fan RPM sensors
✔️ Bowden system with 3:1 gearing
✔️ SuperPINDA probe - no temperature drift (more info)
✔️ Fast preheat: PLA 1 min / ASA 3 min
✔️ 2.8″ graphic 65k color screen with G-Code preview
We Accept:

Introducing new Prusa compact 3D printer, The MINI+. It is a big printer in a compact body. The MINI+ is suitable for beginne, companies looking to build a printing farm and 3D printing enthusiasts worldwide.
Original Prusa MINI+ - smart and compact 3D printing workhorse with all the bells and whistles you're accustomed to when you buy an Original Prusa 3D printer. MINI+ will surprise you. It has a print volume of 18 cm (7") cubed, removable spring steel sheets, ethernet and optional Wi-Fi and it's based on Prusa brand new custom-made 32-bit Buddy mainboard with silent 2209 Trinamic drivers.
The Original Prusa Mini+ Kit comes with
✔️Build Volume
Featuring a 7"×7"×7" (18×18×18 cm) build volume, the MINI+ is a fully-equipped 3D printer.
✔️Color LCD Screen
Configure your 3D printer with ease and see previews of sliced models before you start printing.
✔️Flexible Print Sheets
Removing a print has never been easier with the magnetic heatbed and removable spring steel sheets, The surface is easy to maintain and comes in two variants: smooth and textured.
✔️SuperPinda Probe
SuperPINDA probe features a hiqh-quality sensor for a fully-automatic Mesh Bed Leveling process.
✔️Network Connectivity
The MINI+ comes standard with an ethernet port and optional future ESP Wi-Fi module upgrade which will enable sending files to the printer wirelessly, or download OTA firmware updates.
✔️Safety Features
Equipped with three thermistors and comes with a high-quality power supply.
✔️32bit Controller STM32
More power, more options. Brand new custom-made 32-bit "Buddy" motherboard with Trinamic 2209 drivers.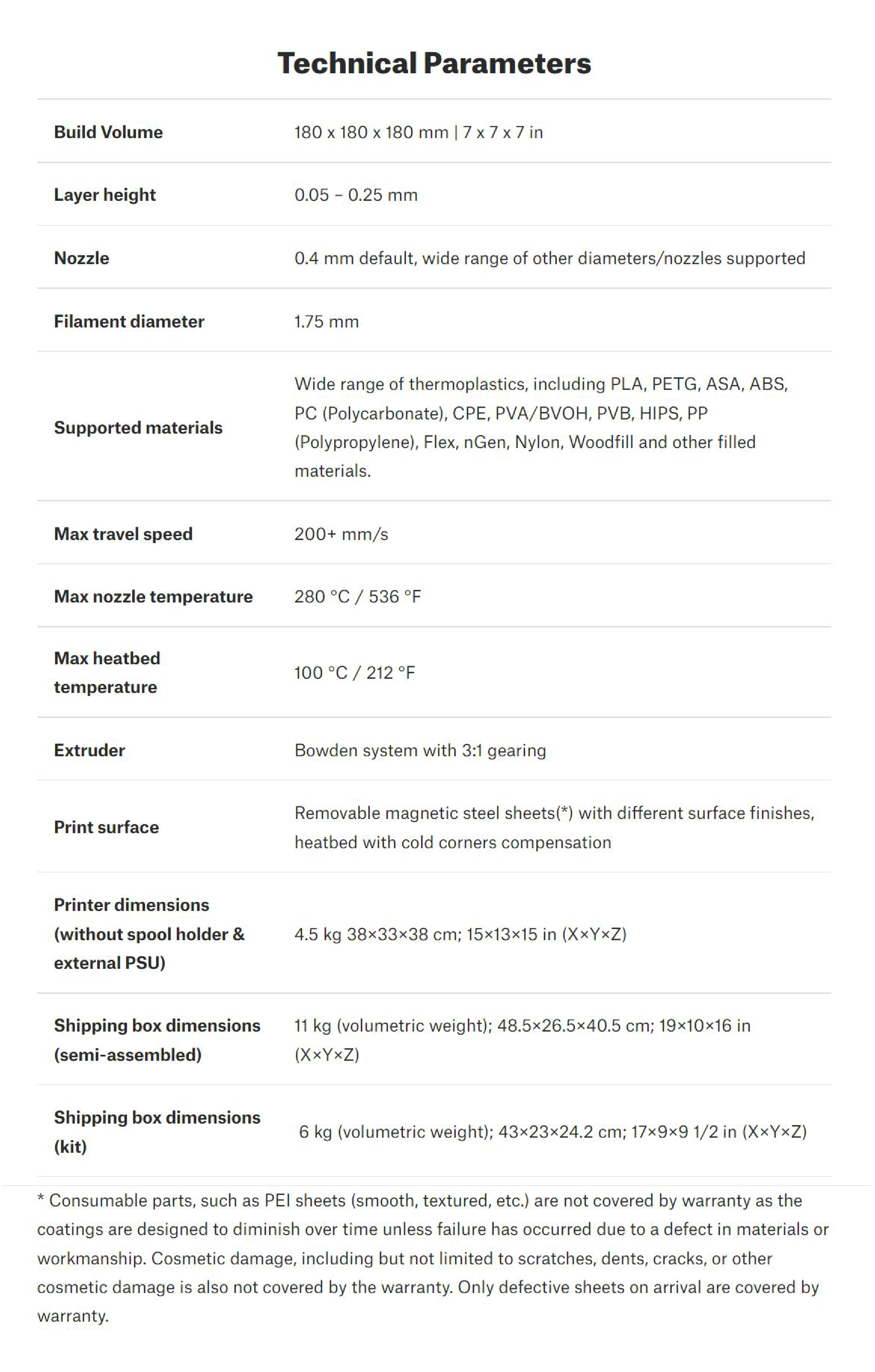 Specification: 
Build Volume: 180 x 180 x 180 mm | 7 x 7 x 7 in
Layer height: 0.05 – 0.25mm
Nozzle: 0.4 mm default, wide range of other diameters/nozzles supported
Filament diameter: 1.75 mm
Supported materials: Wide range of thermoplastics, including PLA, PETG, ASA, ABS, PC (Polycarbonate), CPE, PVA/BVOH, PVB, HIPS, PP (Polypropylene), Flex, nGen, Nylon, Woodfill and other filled materials.
Max travel speed: 200+ mm/s
Max nozzle temperature: 280 °C / 536 °F
Max heatbed temperature: 100 °C / 212 °F
Extruder: Bowden system with 3:1 gearing
Print surface: Removable magnetic steel sheets(*) with different surface finishes, heatbed with cold corners compensation
Warranty: 6 Month carry in warranty against manufacturer defects (excluding wear & tear parts and user mishandling) Outstation customer need to bear the shipping cost (to and fro)
Package Includes
1 x Original Prusa Mini+ DIY kit Unassembled 
Sold by 3D Gadgets Malaysia
Data sheet
Weight

6KG

Warranty

6 Months Carry-In Warranty Against Manufacturer Defects On Electronic Controller: 3 Months On Power Supply, Lcd, And Motor . This Warranty Does Not Include Wear And Tear Parts.

Printer Type

DIY
No customer reviews for the moment.