Magma Plant- Based Photopolymer Resin Series 1KG
Formulated with plant- based, soy bean oil which is more eco-friendly and biodegradable.  It does not consist any volatile organic chemicals (VOC's) and EN 71-3 certified. Suitable for most LCD/ DLP/ MSLA 3D Printer with 355-405nm wavelength. 
Suggested Exposure Time (Based on 405nm UV)
(RGB )50 Micron: 7 to 11 sec / Base 70 to 100 Sec
(Mono) 50 Micron: 2 to 4 sec / Base 20 to 40 Sec
NOTE: The exposure time should be adjusted according to printer light energy, layer height and model structure.
Benefits:
- Safer and ultralow odor : Eco-Friendly, made from soybean oil. No VOCs.
- Complied with EN 71-3 safety standard.
- Offer high detail prints
Technical Data Specifications
Density (g/cm3):  1.05- 1.25
Viscosity (MPa·s): 200-350 
Hardness(Shore D): 84 D
Tensile strength (MPa)
:
27.46
Elongation at break (%):
5
-10
Flexural strength (MPa):
20 +/- 10%
Flexural modulus (MPa): 515 +/- 10%
 IZOD Impact Strength (j/m): 58
 Wavelength: 355-405nm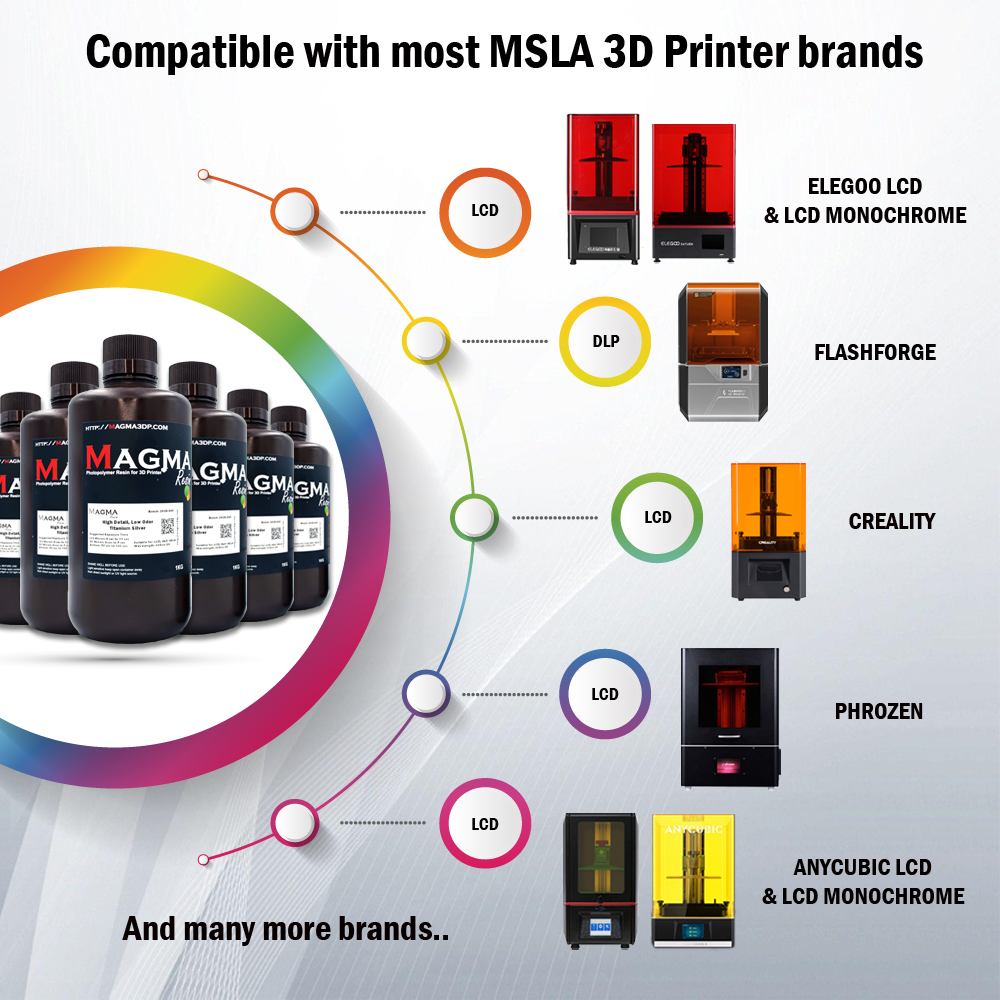 Cleaning & Post Curing
Step 1 - Prepare two containers with IPA (> 95%), and place the object into the first container and gently shake it or gently brush it with a soft brush. After that soak it in the second container for about 1 minute
Step 2 -  Dry the object with cold air. Ensure it is fully dry.
Step 3-  Place the object in the UV Curing Chamber to cure. The curing time is proportional to the volume of the work piece and inversely proportional to the optical power of the curing chamber.
Storage 
Important Safety Notices
Sold by 3D Gadgets Malaysia