Flashforge Inventor is a filament-based 3D printer with a totally-enclosed design that is safe to use indoors and around children. It features a stunning 50 micron print resolution for head-turning quality. Five cooling fans are equipped with a temperature activated sensor that regulates the build chamber temperatures. This enhances the print quality and prevents common issues of printing ABS and PLA. Inventor is also great for printing with soluble filament or even exotic filament such as flexible or composite materials. Inventor features a built-in camera so you can monitor the progress of your prints remotely. Simply download and connect to the mobile app to see your design come to life. Bring your designs to life with Inventor today.
Features
Latest dual extruders for building the most intricate designs
Ultra-high quality 50 micron layer resolution
Temperature sensing build chamber for heat monitoring
Five cooling fans to ensure no PLA stringing or ABS warpping
Prints ABS, PLA, soluble and composite filament
Built-in camera to monitor print progress using mobile app
Connect to your home or office Wi-Fi network to control Inventor or transfer files
"Resume print" feature ensures print progress continues after power outage
Invariable Temperature Of Printing Cavity Achieve Superior Printing Results.
The sensitivity of temperature directly affect the printing results, especially for complex models. Thus, print cavity that maintains a stable print temperature ensures minimal shrinkage of the consumables to get a better print effect. The inventor have built-in 5 fans and a temperature measuring chip. The real-time temperature measurement allows the cavity to have a stable temperature.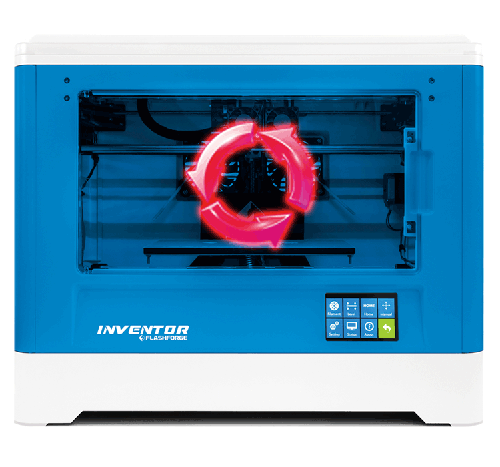 Resume Printing From Power Failure. Say NO To Printing Failure.
Resuming printing from power failure function greatly improves user experience. No more failed prints due to unexpected power outage. Resume printing right after you turn on Inventor 3D printer.
Living Printing.Observe your model in real time. Remote Monitoring System
It's not easy to watch a model, which need prints for tens of hours. Inventor equipped with a camera, whether at home or outside work, can always check the print status. You can still record the print video to record each print moment.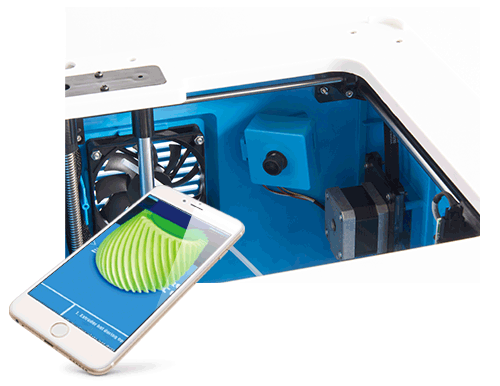 Support Android, iOS And Windows App,Happy 3D. Make 3D Printing More Fun.
The method of printing is constantly simplifying, but the way of modeling is still not easy. We think from 3D modeling to 3D printing, this should be a pleasant and easy process.Happy 3D allow drawing 2D objects or extending them to 3D. Happy 3D makes people a whole new experience, with more than 100 free 3D models with 7 categories items to creating 3D designs by combining two or more models in just few simple steps.
It supports Flashforge 3D printing, taking design models as inputs and sending the models to a 3D printer.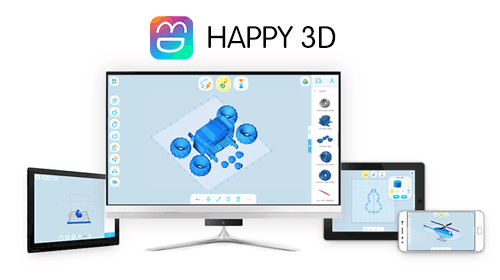 Specifications
Printing
Printing Technology: Fused Filament Fabrication (FFF)
Build Volume: 230L x 150W x 160H mm
Positioning Precision: XY: 11 microns (0.0004in)
Layer Resolution: Z: 2.5 microns (0.0001in)
Nozzle Diameter: 0.4mm (0.015in)
FIlament Diameter: 1.75mm (0.069in)
Mechanical & Dimensions
Frame & Body: Plastic Alloy
Printer Dimension: 485 x 344 x 382mm (19.1 x 13.5 x 15.0in)
Extruder Quantity: Two
Product Weight: 14.8kg (32.6lbs)
Software & Electrical
Software & Firmware: FlashPrint
Connectivity: Wi-Fi, USB cable, SD card
File Type: Input: .stl, .obj, .3mf, .ffp; Output: .g/.gx
Language Support: English/German/Japanese/Russian/Italian/Korean/Chinese/Czech
Operating Systems: Windows XP/Vista/7/8/10, Linux, Mac OS X
AC Input: 100V-240V, 4.5A-2.5A