MeCreator 2 is a new desktop 3D printer in half-opened box-type design with 160x160x160mm building volume. It is optimized and improved based on the previous MeCreator, bringing MeCreator 2 with more exciting features.
The control board and power supply unit are hidden in the bottom of the printer, compact and space efficient, providing stable support for printing as well as more safety protection. The upgraded hardware and optimized firmware bring you excellent printing result. The printing precision is up to 0.05mm, and the positioning precision is up to 0.05mm for X/Y axis and 0.02mm for Z axis. MeCreator 2 supports wide range of filaments including ABS, PLA, flexible PLA and wood-polymer. In addition, MeCreator 2 is equipped with LCD2004 controller, which enables stand-alone printing with SD card.
Like MeCreator, MeCreator 2 will be delivered after assembly as well, which  saves you from the trouble of assembling. Get a MeCreator 2 now, and welcome to the wonderful world of 3D printing!
Optional Enhancement Pack for free!!

Note on Enhancement Pack:  Due to the installation of the Fan Duct some modification on both firmware and hardware are needed, additionally the LED light will be permanently on when the printer switch on. Please read more on the benefit of having a fan duct installed. You can choose to buy this printer as the original package or with the Enhancement Pack, if you want to go for the Enhancement Pack option please add the 'MeCreator2 Enhancement Pack' to your shopping cart at the bottom of this page. 
Enhancement pack items as below.
1x Glass for Print Bed
4x Clips
1x Fan Duct for Layer Cooling
1x Radial Fan use for Fan duct
4x 3D Printed Soft Foot Stopper
Firmware upgrade
Printing specifications:
Print technology: FDM
Build volume: 160x160x160mm 
Printing precision:0.05mm
Positioning precision: X/Y:0.05mm. Z: 0.02mm
Print Speed: 60-80mm/s 
Filament diameter: 1.75mm
Nozzle diameter: 0.4mm
Filament type: ABS/PLA/flexible PLA/wood-polymer
Software:
Operating system: Windows/Mac/Linux
Control software: Repetier-Host, Printrun, Cura
File format: .STL, 3ds, obj, amf, dae, G-code
Temperature:
Max heated bed temperature:  About 110 °C 
Max extruder temperature: About 240°C 
Electrical:
Power supply: 
Input: 110V/220V 350W
Output:DC12V/29A
Connectivity: USB, SD card (support stand-alone printing)
 Mechanical:
Chasis: metal sheet
Build Platform: Aluminum alloy plate+ heatbed
XYZ Rods: Wear-resistant, stainless steel and lead screw(Z axis)
Stepper Motors: 1.8°step angle with 1/16 micro-stepping
Physical structure: Reprap
Physical Dimensions & Weight
Machine Dimension: 320x320x360 mm 
Shipping box Dimension: 460x460x410mm
Machine Net weight: 9.05kg
Machine Shipping weight: 17.5kg 
Features Details: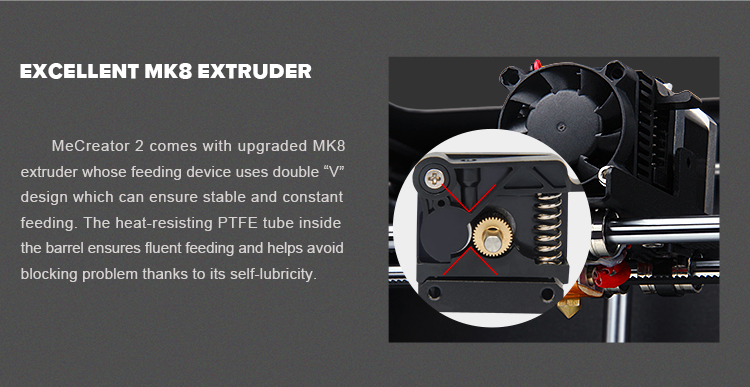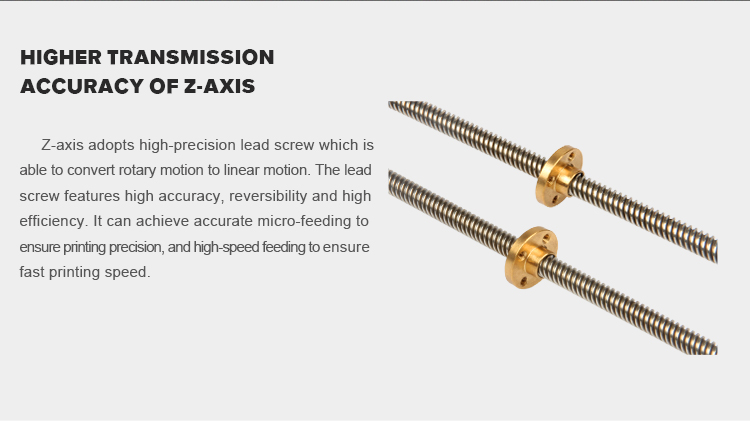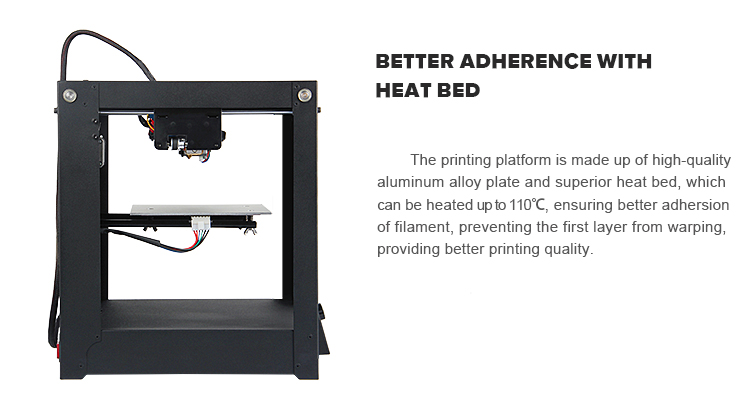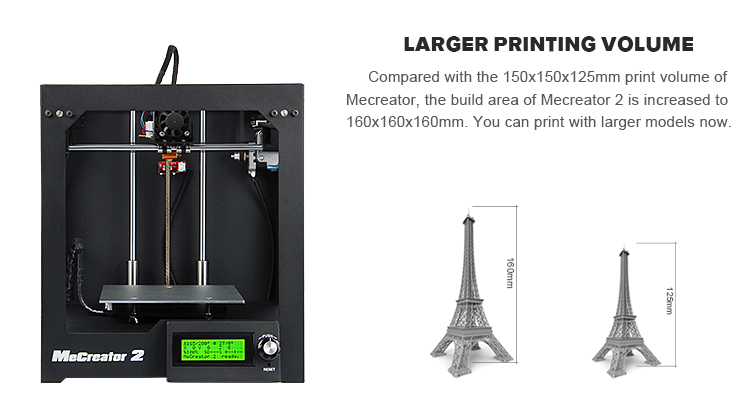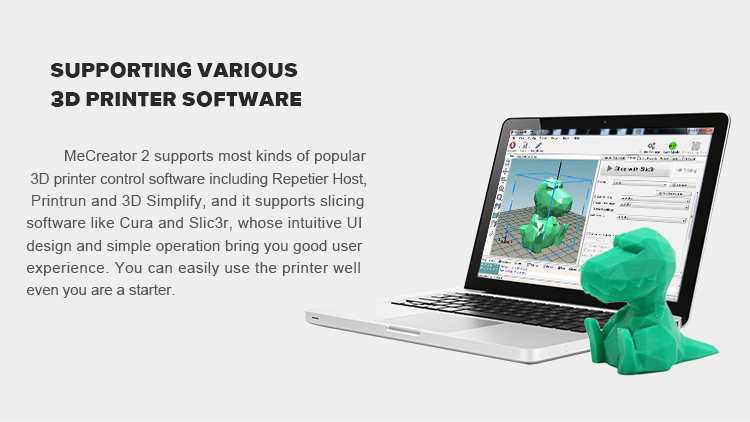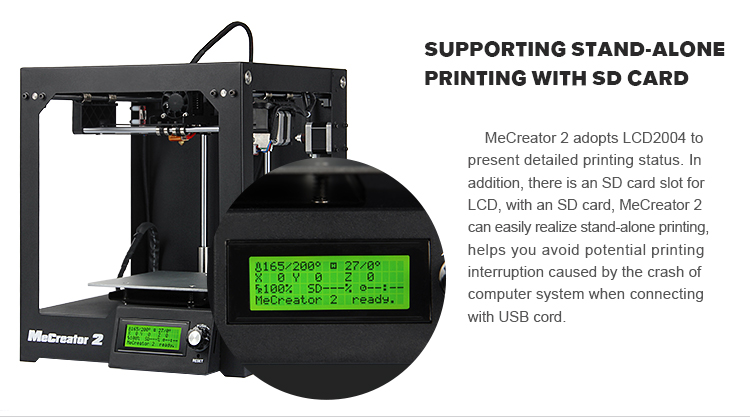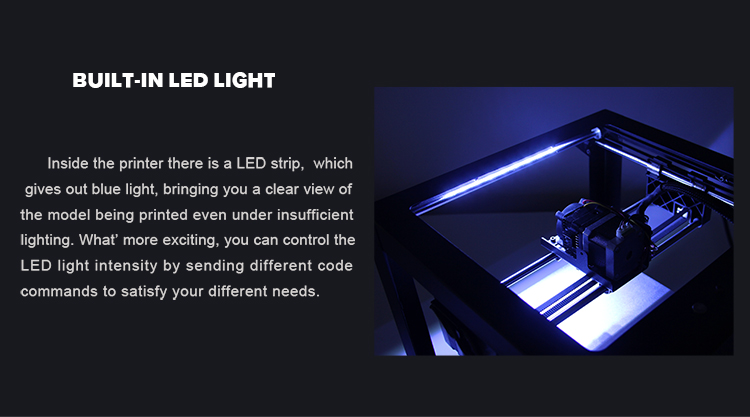 11. A wide range of application
3D printing technology can be applied to a wide range of fields including industrial manufacturing, designing, machine part manufacturing, modeling, building, arts and culture field, teaching, archaeology, toys producing and so on. Unleash your creativity and 3D printing will bring you endless surprises.
12. Save you from trouble of assembly
MeCreator 2 is assembled and tested by us before shipping. You can start printing right out of the box. Compared with DIY 3D printer, MeCreator 2 saves you from troubles of assembling. MeCreator 2 is highly recommended to both starters and experienced users. 
Resources:
Complete list of official video
We strongly advise you to download the Full version of User manual, the printed copy that came with the printer is simplified version.